These Moana family Halloween costumes are so cute! Love the DIY no-sew baby Pua costume and the DIY Maui costume! The detail is amazing, and the tutorials are so helpful!
This post contains affiliate links.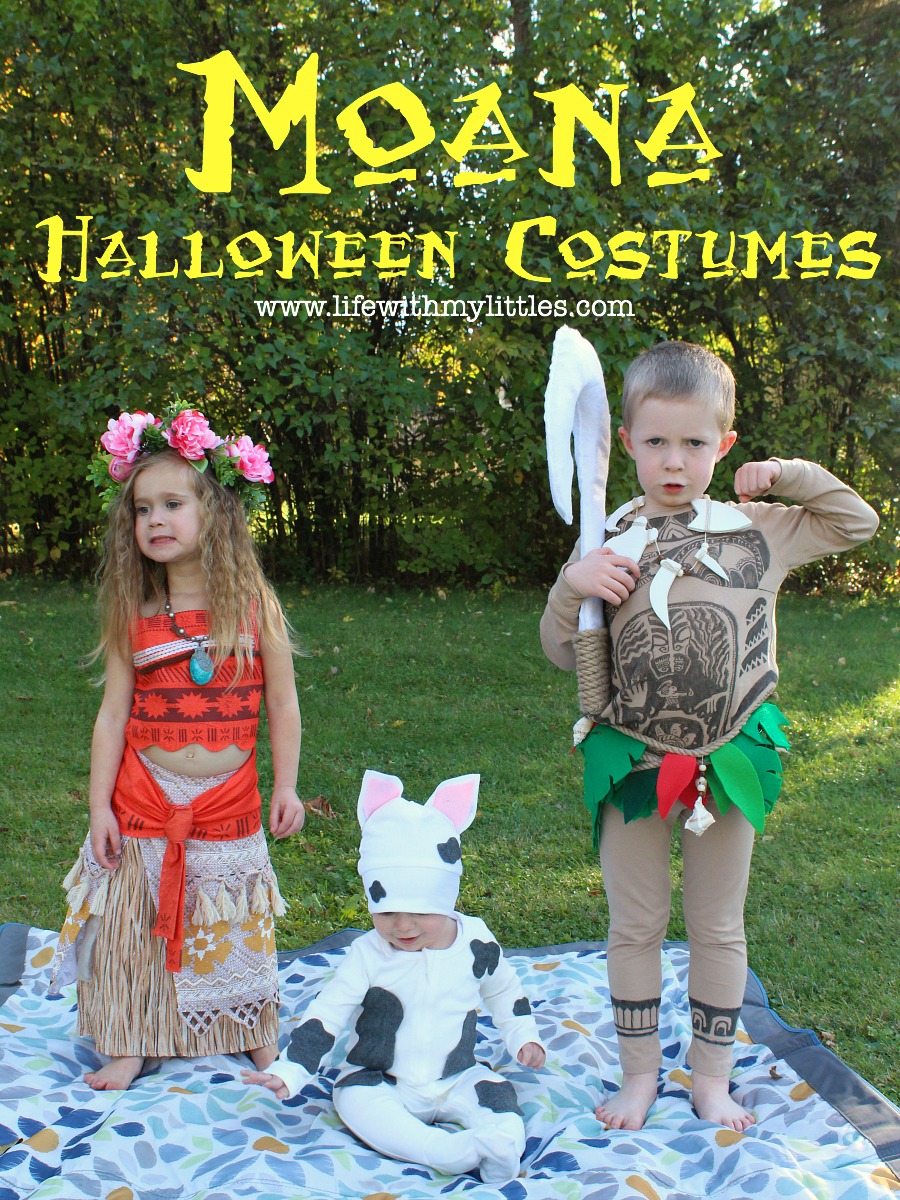 If you follow me on Instagram, you'll have seen sneak peeks of our family's Moana Halloween costumes. Little A is Moana (of course), Little J is Maui, and Little R is Pua. I love Halloween, and I frequently spend a lot of time working on Halloween costumes (like this Lightning McQueen costume I made last year). I put a lot of time and effort into these costumes, and I am SO HAPPY with how they turned out. I know Halloween is less than two weeks away, but I couldn't not share these!
Let's start with Moana.
Little A's costume is the only one I didn't completely make.
She was gifted the Moana costume
from one of her grandmas for her birthday, and Little J got her the singing Moana necklace
for her birthday.
I decided to make her a little flower crown that she could wear like Moana wears in the movie.
I used flowers from Michael's and a tutorial I found similar to this one.
It was super easy and while it's not a total DIY, I still love it!
Now we'll go to sweet baby Pua.
We call Little R Pua almost more than his actual name, so it was easy to decide what character he would be from the movie! I searched for a baby Pua costume tutorial, and couldn't find one, so I improvised!
And the best part is that if you don't want to do any sewing, you don't have to!
All you need are white baby pajamas
(I used this one
from Amazon), a white baby hat, gray felt, white felt, pink felt, and hot glue. First cut out some gray spots and hot glue them all over the pajamas.
Then cut out some pink triangles and some slightly bigger white triangles (for the ears) and glue them together, then glue them to the hat.
I recommend putting your hat on your baby to make sure you put them in the right place. Of course take the hat off before gluing them so you don't burn your baby. Then glue a few more smaller gray spots onto the hat, and voila!
You have a super easy no-sew baby Pua costume! If you're wondering why I said you don't have to sew it, I actually made the baby hat because I didn't want one with a little fold on it. You can find the tutorial I used for that here. I love how Pua's costume turned out, and it was so easy!
Maui's costume took me the longest, and it's definitely the most detailed.
I got the skin-colored shirt
and pants
from Amazon (shirt here
, pants here
), and drew the tattoos on (yes, I know) with Tulip black fabric markers
.
It took several hours, I only did the front of the shirt and the ankles, and if you decide not to draw them on, your costume will still look awesome.
For Maui's fishhook, I mostly followed this pin. It's made from several layers of cardboard, masking tape, white felt, a rope, and hot glue.
I've seen a few different tutorials on Pinterest, and you can also just buy a fishhook
if making one intimidates you. I used white felt instead of cardboard (because it was what I had and seemed easier) and just stitched it on using embroidery thread.
Then I hot glued some rope around the bottom of it.
For Maui's necklace, I cut teeth out of a white foam sheet from Michael's (like this), hot glued some thin hemp rope around the tops, and then hot glued them in between some white and brown beads on a thin hemp rope. It was super easy, and I just tie it on my son using a bow when he wears it.
The skirt was also super easy, even if it took a while. I used different colors of green felt, purple felt, and red felt, and cut leaves out of it.
Some of them were simple leaves, and then some of them I cut into to make them look more like palm leaves. To attach them to the rope, I used thread and sewed them on in a big long line along the rope. I also drilled some holes through some seashells and tied them onto the rope. To put it on, I just use safety pins on each end and pin them so it doesn't fall off. There's probably a better way to do it, but that's how I did it!
So there you have it! DIY Moana Halloween costumes. They are great family Halloween costumes, great sibling Halloween costumes, or they are even great on their own! My kids ask me to wear them every day, and I can hardly wait to show them off and wear my Te Fiti costume with them! Happy Halloween!