This post contains affiliate links.
Leaving the house when you're potty training can be scary, but it doesn't have to be when you're prepared! Make sure have these diaper bag essentials for potty training packed, and you won't worry about accidents on-the-go anymore!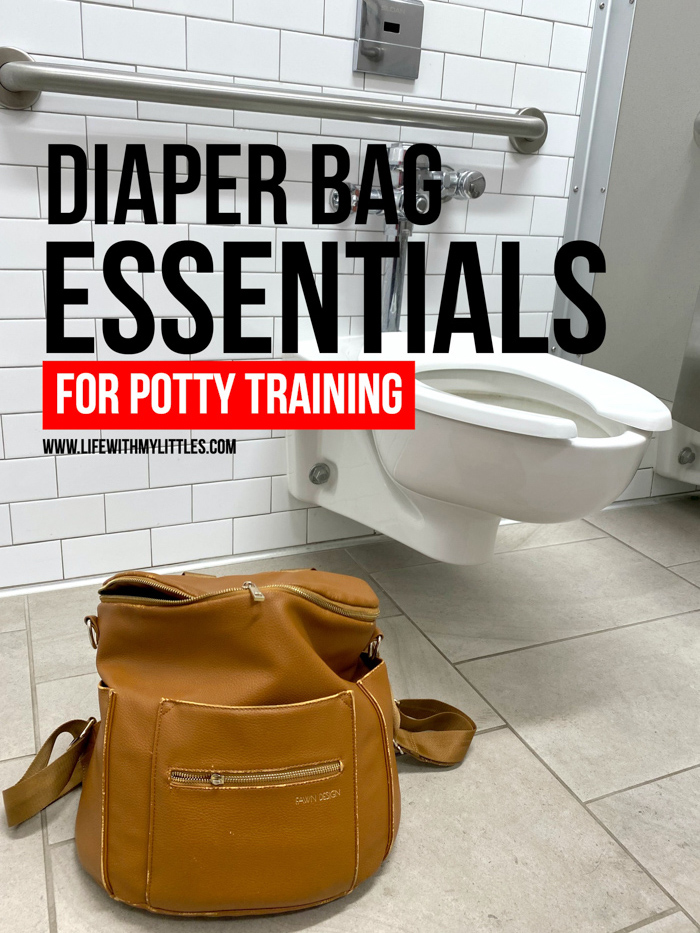 There's no such thing as casual potty training.
At least not successful casual potty training.
We're potty training our third child, and if there's anything I've learned over the years, it's that in order to be successful with potty training, you have to really commit and go all in.
Instead of being cautious and putting diapers or a pull-up on our son when we leave the house, I've been keeping him in his undies. Yes, that does mean there's a potential risk of accidents outside of the house, and yes, that can be terrifying and messy and complicate things.
But if you stock your diaper bag with these essentials for potty training on-the-go, it will be a lot easier to commit and potty train your child while still leaving the house.
Here are some diaper bag essentials for potty training that I highly recommend you stock in your diaper bag for trips out of the house!
Diaper Bag Essentials for Potty Training
A wet bag
This could be a plastic grocery bag or something fancier like these wet bags that are meant for storing soiled cloth diapers. As long as you can put wet or possibly stinky undies or shorts inside without getting the rest of your diaper bag wet and stinky.
Pants that are easy to put on
When you're potty training, pants that are easy for your child to put on and take off by themselves are your best bet. And it's especially helpful to have ones that are simple when you're on-the-go and need to change your child. Stretchy waistbands aren't just for Thanksgiving anymore.
An extra shirt
Most often, this won't be needed, but especially when you've got a little boy who is potty training, sometimes their stream can go up a little too high and get on their shirts. So make sure you have a backup just in case!
Baby wipes
Besides obviously wanting these on hand in case of any poop accidents, any mama who has potty trained a child knows that when your kid pees their pants, it's uncomfortable. Having some baby wipes to wipe down their legs after they have an accident is important for your child's comfort post-accident.
Clean undies
Or, I supposed, a clean pull-up, but we personally aren't using pull-ups this time because in our experience, they feel too similar to diapers. ANYWAY, you'll obviously need some clean undies in your diaper bag when you're potty training.
Little rewards
Rewards are a big part of potty training for us, even if all that means is a single M&M after using the potty. And if your kid is anything like mine, they will ask you for a reward every single time they use the potty, whether you're at home or away. Keep something small in your bag for them (even if it's just a few chocolate chips) or you might be faced with a tantrum followed by the purchase of expensive ice cream.
Sanitizing wipes to wipe the toilet, if needed
You know how sometimes you don't even want to sit on the toilet seat because it's so disgusting? Now think about your child sitting and touching and moving all around on that same toilet seat. Keeping a few sanitizing wipes (like Clorox wipes, Lysol wipes, or a small pack of ancibacterial Wet Ones like these) in your bag in case of extremely gross toilets can definitely help. Especially if your child needs to use the bathroom at a gas station or (please, no!) a porta-potty.
Socks
You never know how full your child's bladder is going to be when they have an accident, and sometimes it runs all the way down into their socks. Keep an extra pair in your bag, just in case.
Disposable or washable changing pad
One thing I've always struggled with is when kids poop their pants in public. I have this traumatizing memory of my oldest son when we were at Disneyland for the first time standing on a bench by the Monsters Inc. ride telling me he pooped his pants. Have you ever taken off poopy underwear without getting some on your child's legs? Have you ever been able to cleanly wipe your child's poopy bum while they were bending over? It's a struggle.
My solution is to use a disposable or washable changing pad (or honestly, even a puppy potty training pad like this) so you can put your child on their back and lift their booty up to clean everything. You definitely won't want to have them just lay on the ground, and sometimes it's too late to or too embarrassing to go out of the stall and use the baby changing table, and this is a quick solution! Just clean your child up and toss the pad in the trash or washer! Easy peasy!
I honestly think potty training is one of the hardest parts of parenting. It takes a lot out of you, it's a full-time commitment, it's exhausting, stressful, and you never know how long it's going to take. But the reward that comes at the end, AKA having a child who uses the toilet, is definitely worth it. Obviously.
Hopefully these diaper bag essentials for potty training will help make it easier for you to keep up the potty training even when you're on-the-go! Life doesn't stop just because you're potty training!