Currently November 2018: What's going on this month for Life With My Littles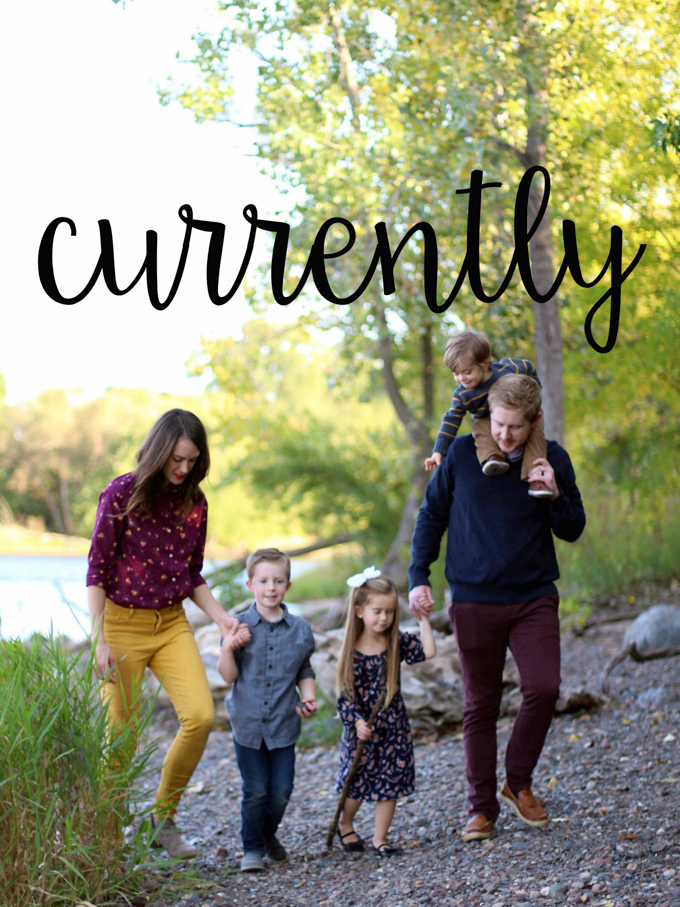 Only two months left in the year! Can you believe it?! We've been in our house for almost a year, which seriously blows my mind. This year has gone by so fast. I'm sure I'll say that again in next month's currently post, but it's worth repeating. Goodness!
We had a great October and got to do a lot of fun things! We went Up North to Duluth and Two Harbors to see the fall colors (it was perfect timing because it was straight up gorgeous). We ate at Betty's Pies twice in the two days we were there (which, if you aren't from Minnesota, Betty's Pies is an INSTITUTION). I also finally ordered business cards, and they turned out awesome and I love them. It only took me five years of owning my own business to get them made haha. Also, if you follow me on Instagram, you may have noticed that I dyed the ends of my hair PINK! I was just planning on doing it for a few weeks, but guys, I love it so much that it's going to stick around for a while! I also finally went to the doctor about my toe and found out it's broken, so now I have a super awesome post-surgical shoe to wear around so it will heal. I still can't run and it's driving me CRAZY. We also had HALLOWEEN which is one of my favorite holidays. We were Jurassic World (you can see the details of our costumes here), and for our church Trunk or Treat I decorated our trunk for the first time and did the gates of Jurassic World. It was a lot of fun and I'm super happy with how it turned out (and bonus, we won the best decorated trunk award!)! I also was the mom in charge for my son's kindergarten Halloween party, and it was so much fun and turned out great! Plus we took Little R trick or treating for the first time and it was so cute! October is just the best!!!!
Here's what's currently going on for us this month:
Preparing the garden for winter. I hate that I had to even write that sentence. But winter is coming, so we have to put our garden "to bed." Basically we have to mulch around our annuals (raspberries, blueberries, strawberries, asparagus, onions, and a few flowers), trim some of my annuals back, and make sure we've pulled everything that is done producing (the rest of our peas, beans, and perennial flowers). We already lowered and stained the fence (thanks a lot, neighbor who complained) so now the only thing that's left to do is get the actual garden ready for winter. At least we'll have a lot less work to do come spring! Building and setting up our raised row garden was a TON of work!
Working on Christmas posts. I know, we haven't even had Thanksgiving yet. But in the blogging world, you have to get stuff out well before the holiday your post is about. Which means, I'm working on my Christmas posts. I have some fun stuff in the works and even though we haven't turned on the Christmas music yet, I'm getting in the Christmas spirit!
Sewing Little R's stocking. Along with that, I need to sew Little R's stocking this month! He actually didn't have one last year (even though he was 11 months). To be fair, I was painting our house and we were getting packed up and ready to move into this house from the house we were renting. But still, kid needs a stocking. I sewed matching ones for the rest of us a few years ago and luckily I still have all the fabric. So now I just have to actually piece it all together! It will be worth it in the end, right!?
Planning some fun things for 2019. I printed and bound my blogging planner last week so I've started thinking about what I want to do with Life With My Littles in 2019. I've got something fun coming in January, a few sales and giveaways for Preggers planned, and I am just excited about a new year and all that it has in store! Some big exciting things happened in 2018 so obvs I'd love more big exciting things to happen in 2019.
Baking all things pumpkin. Yassss! We got so many pumpkins from the garden, and even though some of them didn't quite turn 100% orange by Halloween, they are still fab. And the best part is that we had some surprise pie pumpkins grow (that we thought were cucumbers but were absolutely not!). So far, I've cooked and pureed 4 of them and I have two more ripening on the counter. We've made pumpkin chocolate chip cookies, pumpkin bread, pumpkin muffins, pumpkin cake and pumpkin donuts (and that's just from 3 of the pumpkins!). I froze some of the puree and I'm going to use it to make a pumpkin pie for Thanksgiving, which I'm stoked about. But seriously, if you thought pumpkin was already the best flavor in the world, try eating pumpkin something that came from your garden! My cookies are basically vegetables, guys!
Hosting my parents! My parents are flying in for Thanksgiving and it's the first time we've had family come for Thanksgiving, so it should be fun. We're going to see Wreck-It Ralph 2 the day they fly in (because Wreck-It Ralph 1 is the most underrated Disney movie and we are all STOKED for number 2), plus we'll eat all the food and do some Black Friday shopping. My husband only has the day they get here and Thanksgiving off, so that's a bummer but it will be nice to get out and do some fun things while they're here, because grandparents.
That's what's currently going on with us! Make sure you follow along on Instagram for more updates and check back on Wednesday for my first Christmas post of 2018!