Currently March 2019: What's going on this month for Life With My Littles!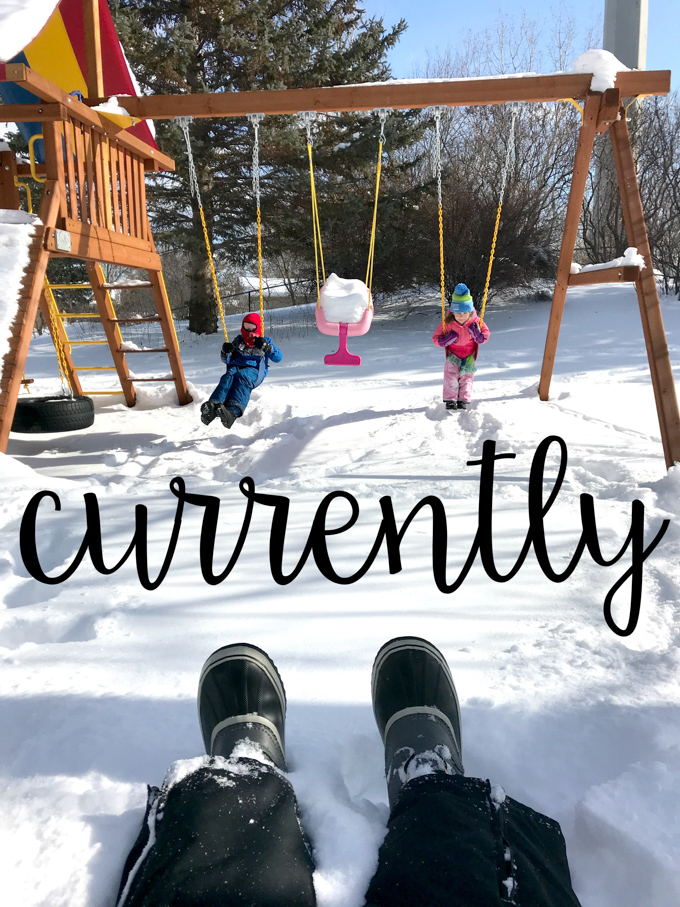 Happy March! March is a good month because it means the first day of spring is coming! And that means we can plant our garden soon! Yes, there's still a few feet of snow on the ground, but I have been thinking about our garden for a few months already! I just can't wait!
February was a fun month for us. My husband's brothers both came for a weekend visit for the first time ever, and that was so much fun. They went ice fishing and to US Bank Stadium for some motocross races, and we celebrated my younger brother-in-law's 18th birthday a few days early. The kids were so jazzed that they were here, and we can't wait until they visit again.
The kids also did a kids' race (J ran a mile and got third for all the kindergarteners and A ran her first 1/2 mile race with her daddy by her side) and we got to see The LEGO Movie 2 (it's so cute and we loved it!). We celebrated Valentine's Day and I was in charge of J's class party again. I got a hair cut (I cut off about 4 inches) and feel pretty fresh now. We've also survived several snow days (so many in fact that they've already added another day of school in March). Which is crazy because the entire time I was growing up in Colorado we only had like two snow days ever. I did finally get to build a snowman though, so that makes it almost worth it!
Anyway, February was good, and March is going to be good, too! Here's what's currently going on for us this month:
Training for my half marathon! Yes, this has been on the last few currently posts, but my race is next month! A little over a month away, in fact! The farthest I've gone so far is 11 miles (which is insane to me), and I've been working really hard to get ready for the full half marathon. Running is hard, but I really like it. It's going to be such a huge accomplishment, and I'm really proud of myself for doing this! Also, I am working on my "costume" for the race! Nothing special, but I'm making a Darth Vader shirt to match my husband's stormtrooper shirt.
Celebrating my son's sixth birthday and the first anniversary of Preggers! Yay! I can't believe my oldest son will be SIX this week! Crazy! He has requested lots of McDonald's and LEGO sets, and instead of a cake he wants me to make him brownies this year. As far as Preggers goes, I am still waiting on Barnes and Noble. I initially thought it would take three months after submission for them to decide, but apparently it takes way longer. Which is fine, it's just hard to wait! I've been in contact with an administrative assistant over there, so I know they have it and it's not lost or anything! But the first year of Preggers has been great! It's doing better than I thought it would on Amazon, and get excited every time I see a new sale come through!
Feeling stuck. I'm not completely sure where I want to go right now. I love my blog and writing, but some of the stuff that goes on behind the scenes has kind of started draining the fun out of it. I want to update old posts for SEO and to make them easier to read, and I also want to write an ebook (like I mentioned last month). I don't think I want to take time off to do those things, but it's getting harder to post twice a week and still have time for other things. Finding time when you have three kids is hard! But I'll figure it out. I'm just not quite there yet!
Done with snow. I'm just done. My husband and I decided that the best word to describe how we feel about winter at this point is "defeated." Every time it snows now I dread having to go out and clear the driveway. Our snowblower broke so for a few weeks I was shoveling it like I did all of last year. That is HARD WORK, man. But we just got another one and even though it's not super high quality, it works. Anyway, I'm so ready for spring. Even though the snow is going to take months to melt with all that we have.
Planning for spring break. My son's spring break is next week and while we aren't going anywhere, I want to make sure we have fun and don't just sit at home the whole week! Because seriously, I'm worried about that. Any suggestions on what we should do are much appreciated!
Planting our garden! Not outside in the ground, but we're going to plant some of our seedings indoors this week! We went and got a bunch of new seeds on Saturday (and I bought a house plant, name TBD) and soil and I just need to get a table and a few containers to cover them when we plant. I'm seriously so pumped. Gardening gives me life. And food and flowers.
Anyway, that's what's going on for us this month! And yay spring (soon)!