How to start a blog: blogging 101 tips from an experienced blogger to help you get your blog up and running!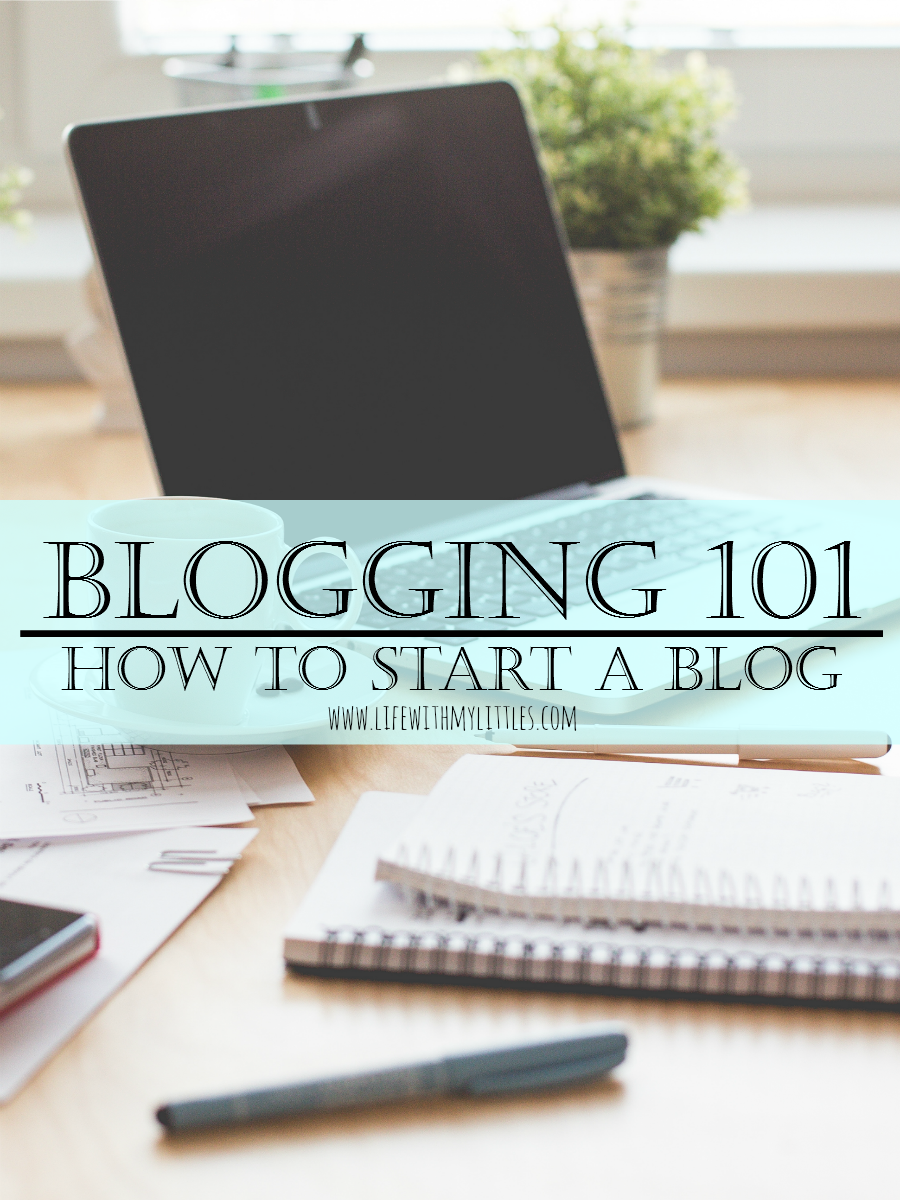 Since I started blogging in August 2013, I have had several people ask me for blogging tips. Some asking me how to start a blog, some asking me how to grow their blog, and some asking me how I make money blogging. I thought it would be helpful for any new (or older!) bloggers if I wrote a series with my tips! I would love to help out in any way I can, and if sharing what I am doing to make my blog work can help, then I am all for it! How to be successful shouldn't be a secret, so I want to share what has worked for me.

This is going to be a four part series, with part one (this part) about how to actually start your blog, part two about how to grow your blog, part three about how to use Pinterest to grow your blog, and part four all about how to monetize your blog.
Blogging is a great way for me to do everything I love, and if I can help other people do that too, then I will be so happy!
Okay, so here are my top tips for how to start a blog!
1. Decide what you want to write about and stick to it. When I first started writing, my blog was called "Crafty Chelsea" and I wrote about the crafts I was making. After my son was born and I started seriously blogging, I wrote a lot more about pregnancy and babies. My most popular posts became (and still are) ones about pregnancy and raising kids. Last year I changed my blog name to "Life With My Littles" because I decided that "Crafty Chelsea" wasn't really capturing what I was writing about anymore. I still post a few crafts, but the bulk of what I write is more about life with my kids. Recently I have been working on focusing more of my blog on that, and I actually just picked a few categories that I am going to try to stick to. Basically, it's been a journey for me to figure out exactly what I want to write about. It would have been so much easier if I had just figured that out in the beginning. So my tip from this is that you should pick what you are passionate about early on, and then stick to writing that. It will be easier and it will help a lot to have a clear direction with your blog. It also helps a ton when you are brainstorming ideas.
2. Decide how much personal information you want to share. I only share my name and the state we live in on my blog. I don't share my children's names, or the Mister's name. I also don't share the town we live in. I know some people who share everything, and if that is your deal, then that is fine. I mean it is up to you, but I try to protect my children even if my name is out there. It just makes me feel better having little nicknames for my family.
3. Decide how often you want to post. One thing that I have noticed is that blogs that have a regular posting schedule are a lot easier to follow along with than blogs that are random and post all over the place. Right now, I post two times a week, but as we get settled into our new home I am going to post three times a week. It just depends on how often you can spare the time to blog. Some bloggers post every day, but as a stay-at-home mom who only gets naptime and early in the morning to work on her blog, that just isn't an option for me. So really consider how much time you are willing to spend on blogging and then figure out how often you want to post. Just keep it regular.
4. Pick a blog name and buy the domain. I brainstormed for several days trying to come up with a name that encompassed Life With My Littles. I thought about names nonstop and wrote down everything that popped into my head (even the bad ones). Once you come up with the perfect name (and make sure it isn't taken already), buy the domain. AKA, the .com. Yeah you could be cheap and do the .blogspot.com or .wordpress.com version of your name, but if you are really serious about blogging, you want people to be able to find your site easily, and you don't want someone else to take your website domain. I use GoDaddy.com and I would definitely recommend them.
5. Brainstorm ideas and write them down. In my blog planner, I have a few pages specifically for post ideas. Any time I get an idea, I write it down there under the category it goes with (pregnancy, baby, toddlers, recipes, motherhood, crafts, or blogging). This is such a huge help because I can look at all the things I might want to write about and schedule them on my calendar (see #6). I get my best ideas later at night (especially while I'm getting ready for bed) and I always make sure to write them down before I forget. It's super helpful to be able to look in one place when you are ready to schedule your next blog post.
6. Make a blogging schedule. Otherwise known as an editorial calendar. I definitely could never be one of those people who doesn't have things scheduled at least a month in advance. And in the blogging world, you need to have time to write, take photos, edit, and get everything ready to be published. So making a schedule helps you know what is coming up, what you should be working on, and what kinds of seasonal posts you may want to schedule. I love having a blogging schedule and I would recommend it to anyone who is starting a blog.
7. Set up your blog. Once you have some ideas and your domain and know exactly what you want your site to be about, you need to actually set up your blog. I started my blog on Blogger, but WordPress is definitely more popular because they have a lot of great plug-ins that can enhance your blog and make it user-friendly. I wish I had started on WordPress, but I am in the process of switching so it's okay. When you set up your blog, look at other blogs and see what you like and don't like about them. Do you like the title of the blog across the whole page, or just on the side? Do you want a nice toolbar with all of your post categories and links? What colors do you want to do? Do you want your picture on the side? Do you want one sidebar, or one on each side of the content? Where do you want your social media links? There are so many ways to personalize your blog and make it yours. Don't settle for anything less than what you want. I recommend checking out StudioPress and the Genesis Framework. I think most major blogs use it, and it's really user-friendly.
8. Start writing. Okay so you have your blog ready, you have ideas, you have your schedule. Now write! Content is the most important part of blogging. I am realizing this more and more! So start writing your posts and getting pictures for them and asking questions. Write what you are passionate about, what you are the expert of, what you have learned, and what you want to share with people. And along with this, make sure you PROOFREAD! I am a huge grammar crazy so when I am on a big blog and I find an error it drives me crazy. If people consistently find poor grammar or misspelled words, they aren't going to want to read what you write. So write well.
9. Be real. If you are brutally honest in real life, be brutally honest on your blog. If you are sarcastic in real life, let that shine through on your blog. Don't pretend to be someone else just to get readers. People want the real you. My favorite bloggers share bits and pieces of their real lives mixed in with what they are writing about. I just recently started trying to include more about my life, because I realized that people get drawn in when they feel like they know you who are. So be real, be you, and don't try to be someone else. Nobody likes fake people.
10. Make your images pin-worthy. All of my posts include one "hero shot" at the beginning that I have put together specifically for Pinterest. Vertical images work best, and I always put the title on my picture (because sometimes the descriptions on Pinterest get changed by other pinners). Not all of my pictures in the rest of the post are vertical, but I always make sure that my top hero shot is vertical. You are competing with all of the other beautiful pictures on Pinterest to get people to come to your site, so you want the best of the best when you make that pin-worthy photo. And obviously you want the rest of your pictures to be great, too, but make sure you have one really good photo with your title and make sure it's at the beginning so it's what people see when they come to your blog.
11. Create social media accounts. I will talk more about this in the next Blogging 101 post, but if you are serious about blogging, you need to have at least a Pinterest account, a Facebook page, and a Twitter account. And I love Instagram, so I would recommend that, too. I am going to write a whole post about how I use Pinterest, but that's another story. So to start, create your social media accounts and try to make them your blog name if it's available. That makes it a lot easier for people to find you. And make sure your social media accounts are on your blog somewhere.
Whew, that was a lot of information! But I assume that if you read it all, you are here because you want to start a blog and are looking for tips that can help you be successful. Also, thanks if you read it all! Impressive! I wish you the best of luck, and come back next month when I share part two, Blogging 101: How to Grow Your Blog.