You can't feed your baby without these six baby mealtime essentials! Great for parents with babies starting solids!
This post contains affiliate links.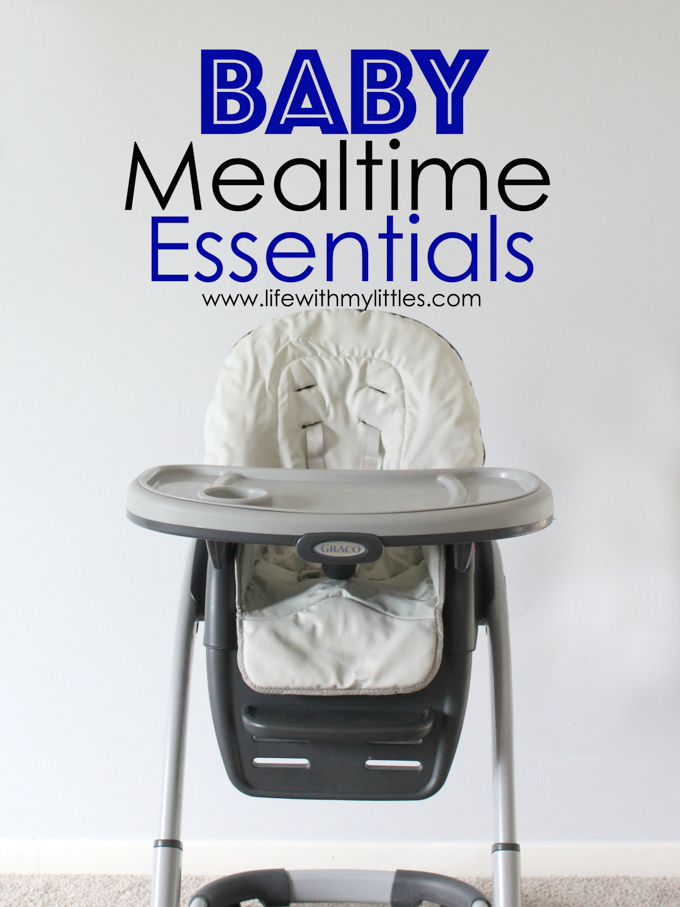 I think every parent looks forward to the day their baby gets to start eating solid foods. The event is usually documented on video, and both parents are usually present. It's usually messy, doesn't go well, and requires a bath after, but it's an exciting part of being a parent!
I thought that having multiple kids would make some of the firsts less exciting, but introducing solid foods was still as exciting with our third child as it was with our first. And there are a few "must-haves" that I've had on hand every time my babies have eaten. Today, I want to share some baby mealtime essentials we used that I absolutely recommend having on hand when you feed your baby!
1. A good bib. In the beginning, I recommend using cloth bibs with snaps or velcro. Your baby most likely won't pull it off, and you don't need anything with a little pocket since they're only eating purees. As your baby gets bigger, we love using silicone bibs (easy cleaning) that have a little pocket on the bottom to catch anything your baby might not quite get in their mouth (this bib
has lasted through all three babies). A good bib you love is DEFINITELY a mealtime essential!
2. Somewhere for baby to sit. Of course your baby can't start off in a regular chair, so you're going to need either a Bumbo seat with a tray
or a high chair. We've used the same Graco high chair
for all three of our kids (it transitions to a booster which is amazing!), but I have friends who love the IKEA high chairs, too! And they're way cheaper. And remember to buckle your baby!
3. Dishes. Bowls, spoons, and plates (for later on). We love for these soft tip baby spoons from Munchkin
. And of course, it's hard to beat IKEA's super cheap and durable bowls and plates! You don't want anything you can't put in the dishwasher, either!
4. Contigo Kids Water Bottles. For milk, we use these water bottles from Contigo
. They don't ever spill when you drop them on the floor, and while you do have to take them apart and wash them every day, they are great because they are bite-proof, durable, and made of hard plastic that won't break!
5. Munchkin 360 Miracle Cups. For water, we like Munchkin Miracle 360 cups
. They teach kids to tip their head when drinking so they're preparing to use real cups, they're super easy to clean, and they don't leak. They really are miracle cups! And I saw that they now even have stainless steel ones
, so that's cool!
6. Baby wipes. You HAVE to have baby wipes
on hand when your baby is learning how to eat. Honestly, I still use them for my preschooler sometimes! But seriously, they make cleanup so much easier, especially since it's inevitable that your baby will get messy (and that's okay, I promise). They're also nice for when your baby spits those peas out in your face!
Mealtime can be a lot of fun with your baby, and trying new foods is always exciting (and sometimes funny!). Make sure you have all of these baby mealtime essentials on hand so that when the time comes to feed your baby, you'll be ready!