This list of baby bath time essentials is so helpful for new parents! If you're not sure what you need for bath time with baby, check out these tips!
This post is sponsored by The Baby Cubby. I received free product for this post.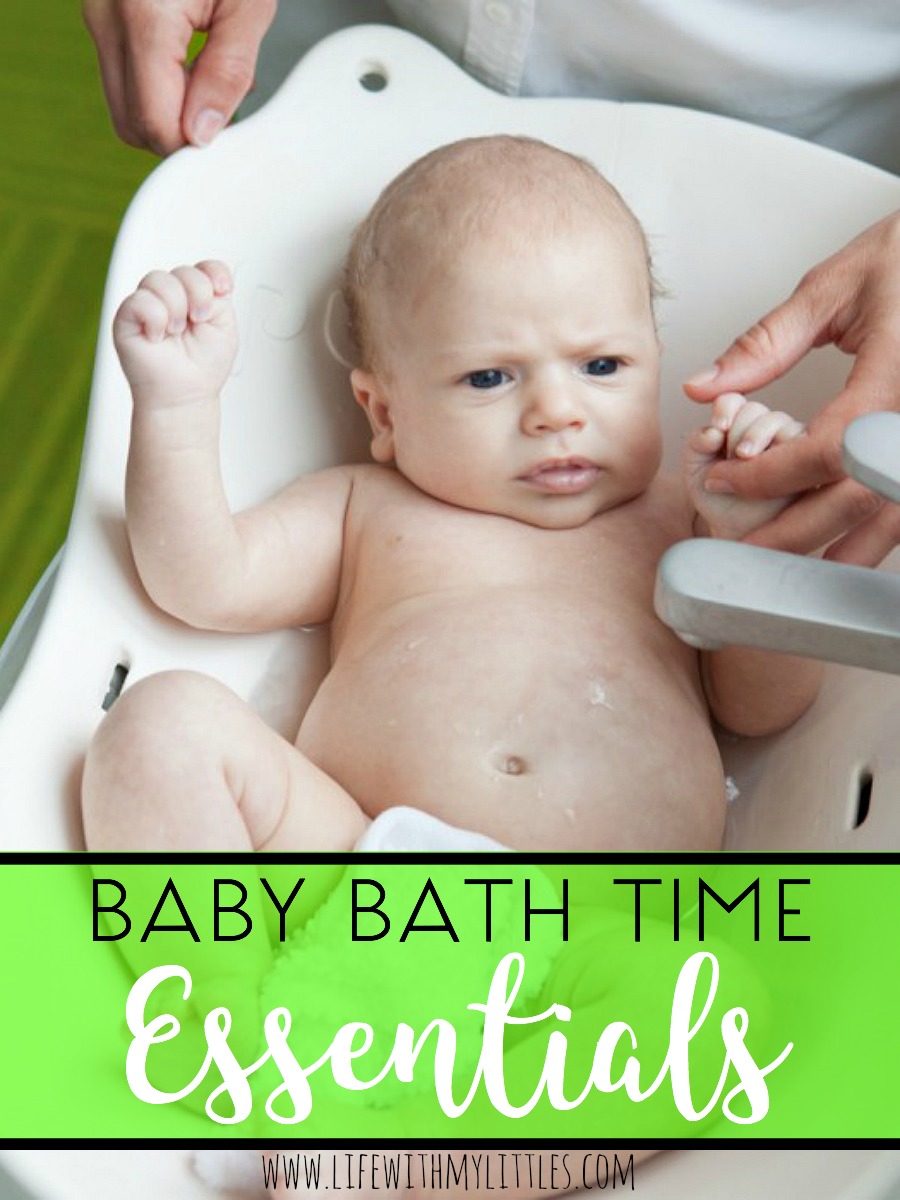 One of our favorite things to do with our babies is to give them baths. Of course they are not big fans at first, but I just love their soft, clean skin after baths and how good they smell when it's over. Plus they usually give extra cuddles after, which is a big bonus! And whether they like it or not, bath time is a great bonding time with your baby.
Now that we've made it through two babies and are going to be having a third in three months, I feel like I have a pretty good handle on how to make bath time safe and enjoyable for babies. Today I have partnered with The Baby Cubby to share some helpful baby bath time essentials.
If you haven't heard of The Baby Cubby, they aren't just another baby store. Not only do they have a website and a retail store located in Lindon, Utah, but they also are active on social media and have a Cubby Community Blog. They are different because they don't exist just to sell baby things, but to be a resource for parents through their amazing journey!
The Baby Cubby team is made up of parents who know what you're going through and are passionate about encouraging, inspiring, and reminding parents how amazing they are and how important their role is. They do this by finding the best and safest baby gear through hundreds of hours of researching and offering it to parents in a fun shopping experience. They are different because they do things like test strollers on their stroller track, price match (even on Amazon!), and they offer free nationwide shipping on their website for orders over $49.
The Baby Cubby is active on Instagram, Facebook, Pinterest, Twitter, and YouTube, and they discuss hard parenting topics on their Cubby Community Blog. They really are so much more than just a baby store, and I wish more companies cared about the products they sold and the people they sell them to like they do.
Now that you love The Baby Cubby as much as I do, here are some things we always have on hand when bathing our babies to make it easier on us and on our babies:
Baby Bath Tub or a Bath Mat: If nobody's told you this before, babies are tiny when you bring them home from the hospital. And you for sure can't just stick them in the giant bath tub and expect it to be safe or easy. So one thing we always use for our babies (at least until they have been sitting for a few months) is a baby bath tub. Not only is it safer for your baby, but it makes bathing them a lot easier. Once our babies get older and are very stable sitting (as in they've been sitting for a few months), I like to have a bath mat in the bottom of the tub. Tubs are slippery, and wet baby skin is slippery, so having a mat to prevent slipping really makes a big difference.
Gentle Soap, Shampoo, and Lotion: Newborns have very sensitive skin, so you want to use gentle soap, shampoo, and lotion on their delicate skin. One product I love is Tubby Todd. I actually first heard about their company from the Pregnancy Perfect podcast, and I was thrilled to see that The Baby Cubby stocks their products. They use all natural ingredients and are made with sensitive-skinned babies in mind, which is important no matter what kind of skin your baby has. Definitely make sure you have some gentle soap, shampoo, and lotion on hand for bath time!
Washcloth/Sponge: Having a washcloth or a small sponge with little scrubbers on it is really helpful when bathing your baby. Babies get messy, especially at meal time, and if that mess is dried all over their face or stuck in their hair, you're going to need something a little more than just your hands to scrub it out! A washcloth or a sponge with scrubber bristles will really make a difference!
Toys: Having a few good toys for the bath makes bath time a lot more fun for baby and for you, too. Of course you won't need them when your baby is a newborn, but as your baby grows, you'll want to invest in a few toys made specifically for the bath. We love Boon toys like these little bath appliques and these stacking boats. Toys that stick to the walls of the tub or that you can pour water with are always a bit hit at our house!
Hooded Towel: We have always used a hooded towel with our babies, and I think it makes a difference in keeping them warm and snuggled after bath time. Plus it stays on a lot easier than a regular towel! And there are such cute patterns and designs out there, too, so you can get special ones for each of your kids!
Cup for Rinsing: When our first was born, we tried just using our hands to rinse soap off of him, but we quickly found out that having a cup to rinse them is key. You can really use any plastic cup, and the bigger the better. Plus once their hair comes in thicker it's a lot easier to rinse their hair out with a cup.
Spout Cover: This one is for your baby's safety, because it only takes one bonk on the head before you decide you need one. A rubber one like this is perfect, and it's so cute, too!
I hope those essentials are helpful! We love bath time at our house, and I think it has a lot to do with having all of these great things at bath time. Make sure you check out The Baby Cubby for all your bath time and baby needs, and have fun with your little one!