Not sure how to style your baby girl or toddler girl's hair? Check out these simple hairstyles for little girls! Tons of cute ideas for baby girl or toddler girl hairstyles!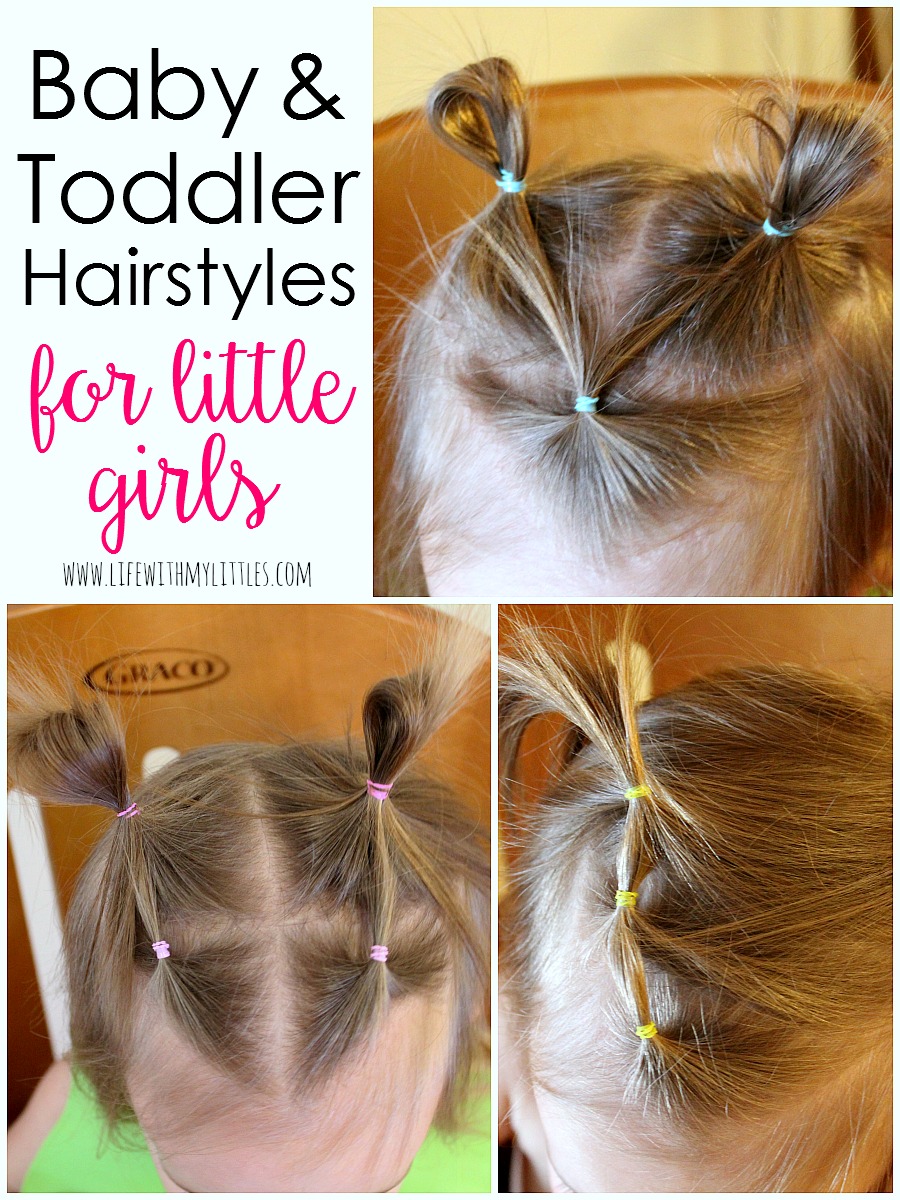 If you've ever had a daughter, you'll know that there's an awkward stage between where she has no hair and where she has lots of hair that is incredibly difficult to style. We affectionately call the stage Little A is in "baby mullet" stage. It's short on the front sides, but long in the back. And yes, we could trim the back up, but cutting a baby girl's hair is different than cutting a baby boy's hair! You just don't want to do it because you want to let it grow!
A few weeks ago I was having a hard time coming up with ideas for how to do my daughter's hair that didn't involve a single ponytail on the top of her head. I searched Pinterest, and surprisingly, "baby girl hairstyles" only brings up like five pins. WHAT!? Pinterest has failed? I know. I was shocked.
So I decided to take matters into my own hands, using a few simple hairstyles of my own, and some cuter ones that are inspired by my sister-in-law. Because let me tell you, my niece is always looking good.
And please don't judge some of these pictures. My daughter's hair is too long to do some of them but I wanted to show you what these styles looked like. So some of these pictures are taken with my phone/old camera, and are not super high quality. But you get the idea.
Regardless of whether or not your baby has hair, a simple headband is always a good way to go. It's easy and requires no skill on your part whatsoever.
The next hairstyle we did with our daughter was a single ponytail on top of her head. Once she had enough hair to do this, we would just pull it all together and tie it with a tiny hair tie and maybe a bow to accessorize.
Next, pigtails! Pigtails are great once baby's hair is too long for the single pony on top of their head. Again, just part it down the middle and do two tiny ones on top of her head.
The next hairstyle was Little A's signature hairstyle for a while, but I think it is finally getting too long to do this anymore. The top side ponytail! You can do it with a clip or without, either way is great.
Another simple one is just to clip the hair back with a bow clip. The best ones are the alligator clips with the teeth because they don't slide out like the smooth ones do. It's a good way to keep her hair out of her eyes without being too complicated. (Also, this bow is from Rylee Dee's Boutique and I love it!)
The last three require a little more patience from her, and a little more skill from you. They aren't hard, but you're going to need some hair clips to clip back parts while you work. The first is a single pony in the front, split off to two ponytails in the back. You can either loop them like I did in this picture, or if your daughter's hair is shorter, just let them be little pigtails.
Next, you can do two up front ponytails and then have them both go back into two more ponytails/loops.
Last, you can do three ponytails all in a row. You start in the front with a ponytail, then add that to a middle ponytail, and then add that to a third ponytail at the back. This one you will definitely want to use a clip to hold the hair back while you tie off the ponytails. You could do this with two ponytails, too.
I hope these ideas were helpful! And maybe they even can give you more inspiration to do another hairstyle! Baby girl hairstyles and toddler girl hairstyles are not as scary as they sound. And they don't require too much skill (remember, I did these!), so don't feel intimidated.
One piece of advice, put your daughter in her high chair and give her tons of cereal while you do her hair. That's the only way I can get Little A to sit still!!
Good luck!