Life With My Littles Baby #3 Pregnancy Update: 28 Weeks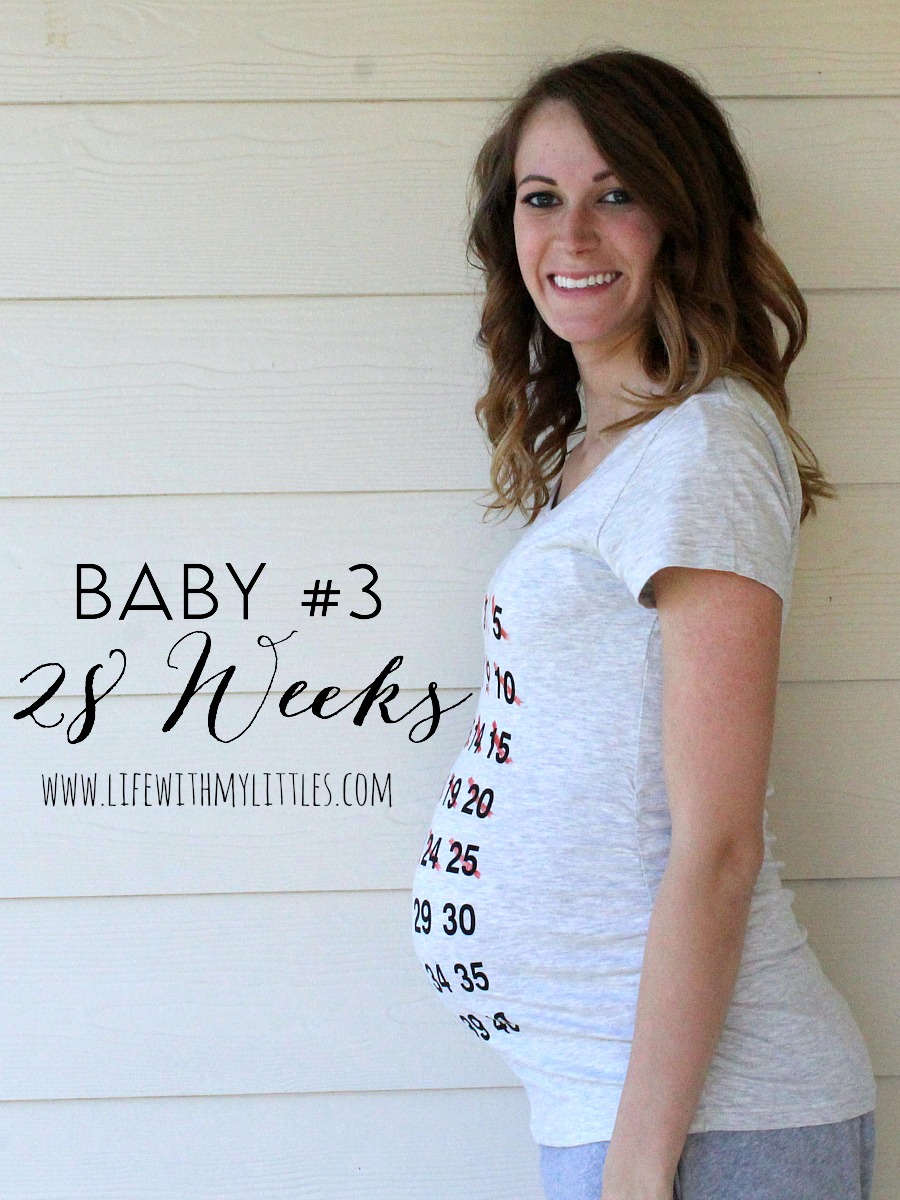 Hey there from the third trimester! I can't believe I am already a little more than 2/3 of the way done with this pregnancy. I am not looking forward to having to go to the doctor every other week soon, but oh well. Full-blown nesting has kicked in and not only am I working on the nursery, I've been doing other things around the house, too. Last week I redecorated the kids'/second bathroom and I love how it turned out. I still have my energy which is good, because I know it's going to be zapped away pretty soon. But things are going well!
How Far Along: 28 weeks. I'm six months and feeling it. My hips and pelvic area usually are pretty sore by the end of the day, so that's no fun. At least I only have 12 weeks left!
Size of Baby: A cabbage! When I was at my OB appointment last week I had an ultrasound and he was measuring  about a week ahead. His weight was 2 lbs. 10 oz, so I'm sure he's a tiny bit bigger now!
Gender: Boy. It was the first thing we saw again on the ultrasound last week haha. So absolutely no doubts there!
Movement: Oh my goodness, all the time. He moves so much. And I am always watching my stomach move around. Nothing painful yet since he's still small, but I'm sure over the next few weeks it will get more uncomfortable.
Sleep: I sleep pretty heavy, despite nasal congestion and having to get up a few times a night to pee. I haven't had any weird dreams recently and still haven't gotten a single charlie horse in the middle of the night (HOORAY!). I also usually sleep almost 10 hours a night when I go to bed at the same time as my husband. I have to get it in while I can!
Workouts: Ugh. I'm trying. I was doing really good for a while but then I realized that when I did workout, especially any type of cardio or lower-body stuff, my hips and pelvis really, really suffered. So I'm trying to stick to mostly upper-body and core stuff. That's basically all I can manage right now.
Maternity Clothes: I am officially only wearing maternity clothes now, since I don't fit into any of my regular clothes. It is starting to cool off (like high 60s, 70s most days), so I've been wearing some long sleeved shirts and some sweaters. And always jeans. I have one pair of maternity skinny jeans from Old Navy that I absolutely love.
Symptoms: Still getting headaches when I get dehydrated, so one of my main goals is to drink a lot of water. My varicose veins are pretty gnarly on my left leg and have spread all the way to my ankle and foot. Braxton Hicks contractions are also the worst, and I have several of those a day. They don't hurt but they are super annoying. And of course my wonderful hormones are still making me break out like a teenager going through puberty. One awesome result of those hormones is that my hair is finally in that stage where you don't lose like any hair at all in the shower, and it looks really healthy. So yay for that!
Cravings/Aversions: Nothing really right now.
Missing Most: Being able to stand up and squat and sit on the carpet without grunting and being in pain. I seriously have to be in a chair or on a pillow or on the sofa to sit. And I actually fell over the other day putting my pants on because my belly was in the way. So I am excited to feel normal again.
Nursery: Looking so good!!! Changing pad cover, crib sheet, and quilt are all sewn. I made a felt ball mobile and a felt word picture (I'll show pictures later) that are hanging up. And last week I bought curtains for the window. I think I want a rug and maybe some shelves and a small gallery wall, but I'm not sure where on that one. But we still have three months to go so I'm doing good.
Can't Wait For: The nursery to be done and ready to go. Right now all the kids' toys are still in there and the recliner is in the living room still, but we aren't going to move those things until early January. But now that the nursery is really coming together I just can hardly wait!
I guess that's about it for today. I did take my glucose test last week and I PASSED, so that's super awesome. Oh and yesterday I had to stop at Walmart real quick (which usually I shop at H-E-B so it was my fault this happened really), and the checkout lady told me I was "big" and she was amazed that I still have three months left. RUDE. You NEVER tell a pregnant woman she is big, even if she's a week away from her due date. Common decency, people. Anyway, other than that, I think my little questionnaire thing covers it! More updates next month!