Life With My Littles Baby #3 Pregnancy Update: 17 Weeks
I received free product in exchange for this post.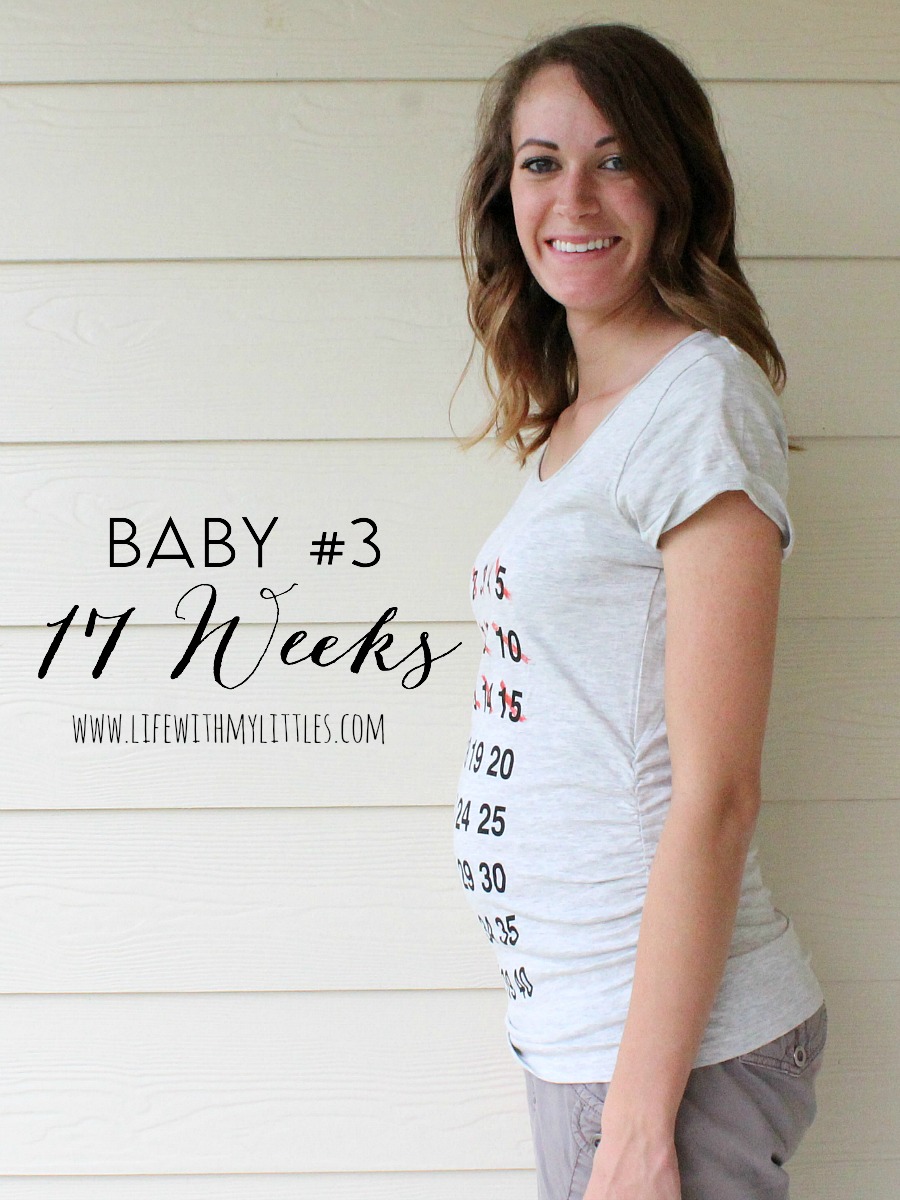 On Monday I announced that I am pregnant with baby #3, and today I wanted to share a little pregnancy update! I will probably do one a month since I also do currently posts, but I'll focus these updates specifically on how things are going with baby and me!
Since I'm already in the second trimester, I'll give you a brief update on how the first trimester went. If I had to describe it in four words, they would be nauseous, starving, unmotivated, and exhausted. I haven't worked on my book in FOREVER and even though I never threw up, I constantly felt nauseous. Which was weird because I always felt like I was starving and if I didn't eat then I would feel like I was going to pass out. Plus trying to manage two kids while feeling all of those feelings was rough. But I'm better now 🙂
Also, don't you just love my maternity countdown tee? It's from The Countdown Shop and I am just in love!! I'll be posing with it for every update!
How far Along: 17 weeks. I know, how have I not announced it sooner? Well we waited to tell our families until after I was in the second trimester, and then we waited to tell our friends until a few weeks after, and then I was going to post about it last week but other things came up. So here I am today, announcing it to all of you lovely mamas! Anyway, my due date is February 5th. He or she will be born about a month before little J turns four and before Little A is 2 1/2.
Size of Baby: A turnip or a pear. Getting bigger!
Gender: We find out in two weeks. I'm not one of those people who can just be surprised. I know I already have a boy and I already have a girl so we have all the clothes and toys and everything we'll need no matter what, but I am dying to get the nursery started.
Movement: Not yet, but I'm sure it's coming soon. I thought maybe I was feeling a little bit last week but it felt maybe a little too high up.
Sleep: Yeah right. Weird dreams, still peeing a ton at night, uncomfortable in every position, and super, super congested. I seem to remember sleeping during the second trimester going a little bit better with my first two pregnancies, but maybe it will get better.
Workouts: I'm trying. I've been trying to get into more of a schedule now that we are back to doing some school with Little J and trying to be more formal about tot school with Little A. Now that I have my energy back, I'm trying to do a video or two every day. Some days it happens and some it doesn't. So I'm working on making it more of a priority.
Maternity Clothes: You bet. Mostly the pants, but I have started wearing the shirts, too. I feel like last week I really popped and now I really do look pregnant instead of sort of chubby, but my pants haven't fit for a while so I've been enjoying my three pairs of maternity shorts. And conveniently, most of my normal shirts had a lot of extra room because that was my post-Little-A's-birth style. So I was able to successfully hide my bump until we decided to tell our friends.
Symptoms: Nothing too bad right now except I get lots of headaches even though I try and drink lots of water. Oh. And I do have these awful varicose veins, mostly in my left leg but some in my right. If you are lucky enough not to get these during pregnancy, consider yourself blessed. I had them towards the end of my pregnancy with Little A and they are already worse than they were at the end of that pregnancy. I've broken out my super nerdy compression stockings and while they aren't the most comfortable things in the world, they do really help my legs not hurt by the end of the day. Also I have a nice clot behind my leg that I'm going to have the doctor take a look at during my next appointment. My husband (also a doctor) thinks they're going to have to remove it and is trying to convince me to let him do it.
Cravings/Aversions: For a while I was craving bagels, grapes, breakfast tacos, cheese fries, and burgers, but now I'm not really craving anything. No aversions either, so that's good.
Missing Most: Nothing really, except not having gross veiny legs.
Nursery: Is currently the playroom, but obviously that's not going to last. The kids have moved into a bunk bed in the old playroom, and the old bedroom is currently a makeshift playroom. When we get closer to my due date we'll move everything into their room, but for now, things are sort of all over.
Best Part of the Week: All of the wonderful congrats comments you guys have shared on SM and on my last blog post. Someone very close to me has been struggling with infertility for almost two years and so when we found out we were pregnant, I really struggled with feeling excited and not guilty about it. But she (and all of my friends and family and you guys) have all been super supportive and make me feel excited and like I can actually do this! Having three kids is something we weren't planning on for a while, but I know we'll figure it out, as every person does every time something unexpected comes along. But yeah, thanks for all the congratulations and support!
Can't Wait For: Finding out baby's gender! I really would be happy either way. It would be fun to have another boy and for Little J to have another boy to play with and be buddies with, but I think it would also be fun to have another girl because Little A is just fun and I love all the dresses and girly things. Little J wants a sister and Little A doesn't really care, because she's too little. It will be fun to find out and start thinking about names and planning the nursery and getting old baby clothes out!
So there you have it! An update on how my third pregnancy is going. I've got a lot of great pregnancy-related posts coming your way (my favorite!) so keep an eye out!!