Not convinced that bringing your kids on vacation is a good idea? Here are 7 reasons why you SHOULD travel with your kids!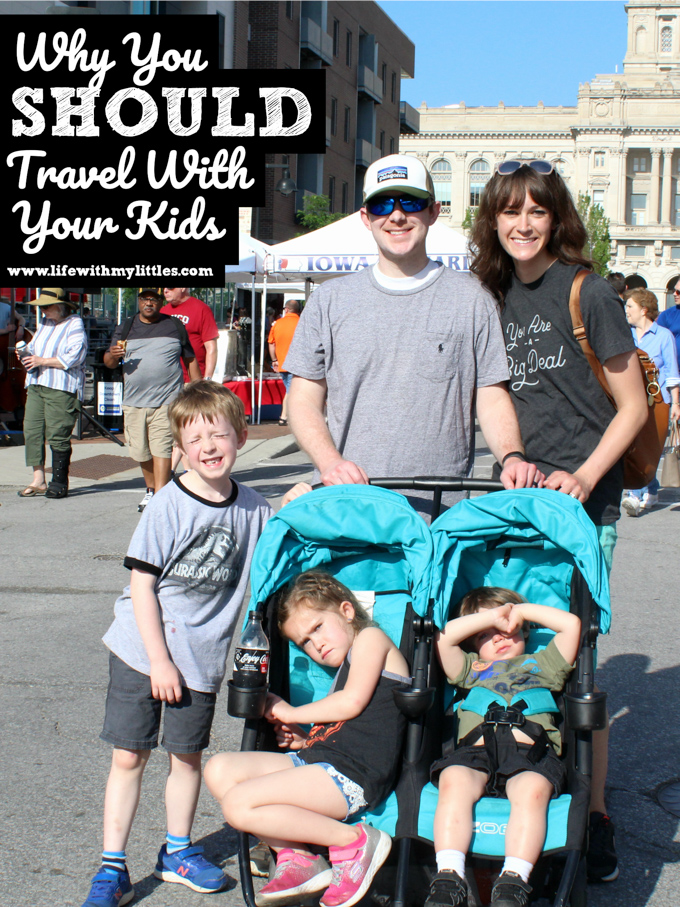 One thing my husband and I love to do is travel. We traveled before our kids were born, and we certainly are continuing to travel with all three of them in tow.
Yes, traveling is a lot different with kids than when you're on your own, but I absolutely think it's worth the extra effort to travel with your kids. Even if traveling with kids becomes more of a trip than a vacation, there are a lot of great things about traveling with kids (just ask The Bucket List Family!).
I'll be honest and say it's definitely harder and more stressful and more expensive to travel with your kids. There are a lot of tears and whining when my kids get out of their routine and aren't going to bed at their bedtime every night, but that's not going to stop us from taking them to new places. I've heard a lot of arguments against traveling with kids, so today I want to talk about why you should travel with your kids!
Why You Should Travel With Your Kids
1. It's a great way to bond as a family.
Sound cheesy? I know. But if you put your family in a car or hotel room or a tent and spend time doing things together that you normally wouldn't do, you bond! I think my family growing up bonded a lot from our trips we took together, even if it was just a camping trip in the mountains.
2. Your kids will experience new things.
Being home is great, but there are just some things your kids won't get to experience if they never travel, no matter how diverse and fun your city is. They'll be forced to try new foods, see new places and how other people live, and interact with people they wouldn't get to otherwise.
3. Even if they won't remember it long-term, they'll talk about it for a long time before and after.
One thing I hear a lot about why people don't travel with their kids (especially to Disneyland) is that they won't remember it. No, your 18-month-old isn't going to remember seeing Mickey or meeting her favorite princess, but they'll remember it for a while! My kids won't remember half the trips they've been on in their lives so far, but they always love counting down to them and sharing what happened on our trips with other people. The joy that they experience in the moment, as well as before and after, is so worth it, even if they forget it in a few years.
4. The little experiences make it worth it.
Last weekend we went down to Iowa for a few days. It was in the 90s with 1000% percent humidity and we were all sweaty and the kids complained and whined a lot. But there was one evening where we chased and caught fireflies for about 15 minutes, and out of everything else we did on our trip, that little experience made it worth it. I didn't get any pictures and my kids will definitely forget about it one day, but I had so much fun and felt so much joy being with my family in the fading sun running around a park we used to visit catching and releasing fireflies. It was a memory that will definitely stick with me forever!
5. Traveling won't be the same as it would if you didn't bring them.
Sure, you could use this as a negative thing, but I'm calling it a positive. No, you won't get to lay on the beach tanning and reading your favorite book for hours, but you will get to run and splash in the water with tiny humans you created. No, you won't get to have a romantic evening walking the streets of old European cities, but you can still walk the streets and point out unique things to your kids. I love seeing my kids' faces when they see something they've never seen before or learn something that blows their little minds!
6. You get to see things through your child's eyes.
Another reason I personally love bringing my kids on trips is because I get to see things differently. Kids notice different things and are amazed by different things, and honestly it enriches my experience to bring them (even if it's also harder!). They notice little things that we take for granted, and it's so much fun to see new places through their eyes!
7. You get to do things you probably wouldn't otherwise.
Sure, you might not go to a quiet, historic museum, but it's a lot of fun to explore local parks, go to beaches and swim, or go to an out-of-town carnival and watch your kids do rides. When you travel with kids, your itinerary is definitely a little different, but that's not a bad thing at all!
We love traveling with our kids. Sure, they're more trips than vacations these days, but I wouldn't trade the memories we make and the things my kids experience for anything. Next time you're planning to travel, consider bringing your kids along. You'll be glad you did!