Why I don't tell people I'm pregnant until the second trimester. It's a personal decision, but here's something you should really consider!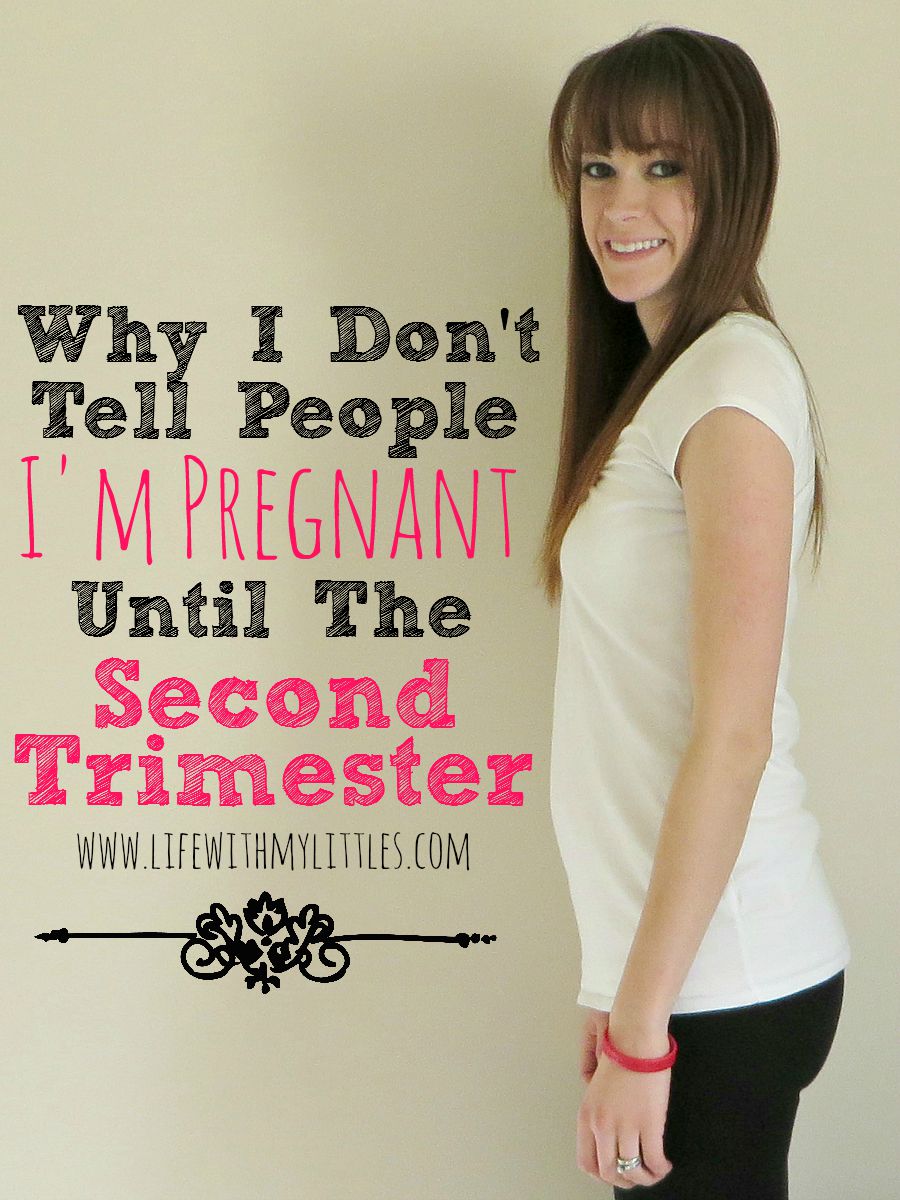 My most popular post is "14 Things to Do When You Find Out You Are Pregnant." It has almost 1 million pageviews since I wrote it a year ago, and I have gotten a lot of great feedback from it.
But one thing that has bothered me is that while I have gotten a lot of comments from people saying how helpful it was for them, I've also gotten a lot of people attacking the first thing I suggest.
"1. Don't tell people until you are past the first trimester. I think family is okay to tell, but it can be smart not to tell the whole world until after the first trimester is over. I know it can be incredibly hard not to tell your friends as soon as you find out you are pregnant, but try not to post it to Facebook just yet. One of my biggest fears is having to go back and tell people that something has happened and you have had a miscarriage. The baby is most vulnerable during the first 12 weeks you are pregnant, and after the first trimester, the chance of a miscarriage drops dramatically (down to 10% of all known pregnancies). So just to be safe, try your hardest to wait until you are 13 weeks pregnant before you spread the glorious news."
That is all. And for some reason, people pounced on that. I actually had to include a note at the beginning of the post. It says "This is my opinion on what you should do when you find out you are pregnant. It is how I feel, and I feel strongly about it. I know others will either agree or disagree, and that is fine, but it doesn't change my experiences or my thoughts. So please be courteous about what you comment about."
Despite that little disclaimer, I still get people all the time making rude comments about how I am wrong. So I thought it was finally time I explained myself. I want to tell you why I don't tell people I'm pregnant until the second trimester.
With both of my pregnancies, we have told our families that we were pregnant before the second trimester. We told our families we were pregnant the first time right after we had it confirmed by the doctor, and our families the second time when I was 8 weeks pregnant. But we didn't announce either pregnancy to everyone else until I was in the second trimester.
I think it's totally fine to tell your family and close friends. It's super hard not to share your exciting news with someone! The thing I recommend avoiding is posting to Facebook or Instagram that you are pregnant before the second trimester.
Like I said in my post, the chance of having a miscarriage drops from up to 25% to 10% when you hit the second trimester. It's still possible to have a miscarriage, but because the chances are lower, I think 13 weeks is a better time to announce your pregnancy to the world.
I am going to assume that most people have friends and followers on social media that they maybe met once or twice, but probably won't ever see again. They probably are friends with people from high school that they haven't spoken to since graduation. That's a pretty common thing. The problem that I personally have with announcing your pregnancy before the second trimester is that if something does happen, you then have to go back and tell everyone that you lost the baby.
I would SO much rather just tell my family and close friends because that is where my support system lies. Not in my Facebook friends I never talk to, and not in my Instagram followers. My family and close friends are the ones I want by my side in the event of a miscarriage, and I don't want random people telling me they are so sorry for me through an online message or comment.
I think it's completely fine if you want to mourn the loss of your baby publicly. It's not shameful to have a miscarriage, because they are very common. I am not trying to say that we need to hide miscarriages, but if it was me, I would hate to have to tell people over and over again that I lost the baby.
Yes, you can lose your baby at any time. You might be in that horrible 10% of women who lose their baby after the first trimester. And that sucks.
The decision of when to tell people you are pregnant is personal, and it is different for everyone. But this is my blog, and I am going to share my advice and my opinion on it, even if people disagree. Because I really do think that when you find out you are pregnant, it's one of the first things you need to decide. And personally, I would wait until after the first trimester.