A look at all of the crazy (and normal) things that happen to your body during pregnancy. Check this list to see what to expect when you are pregnant!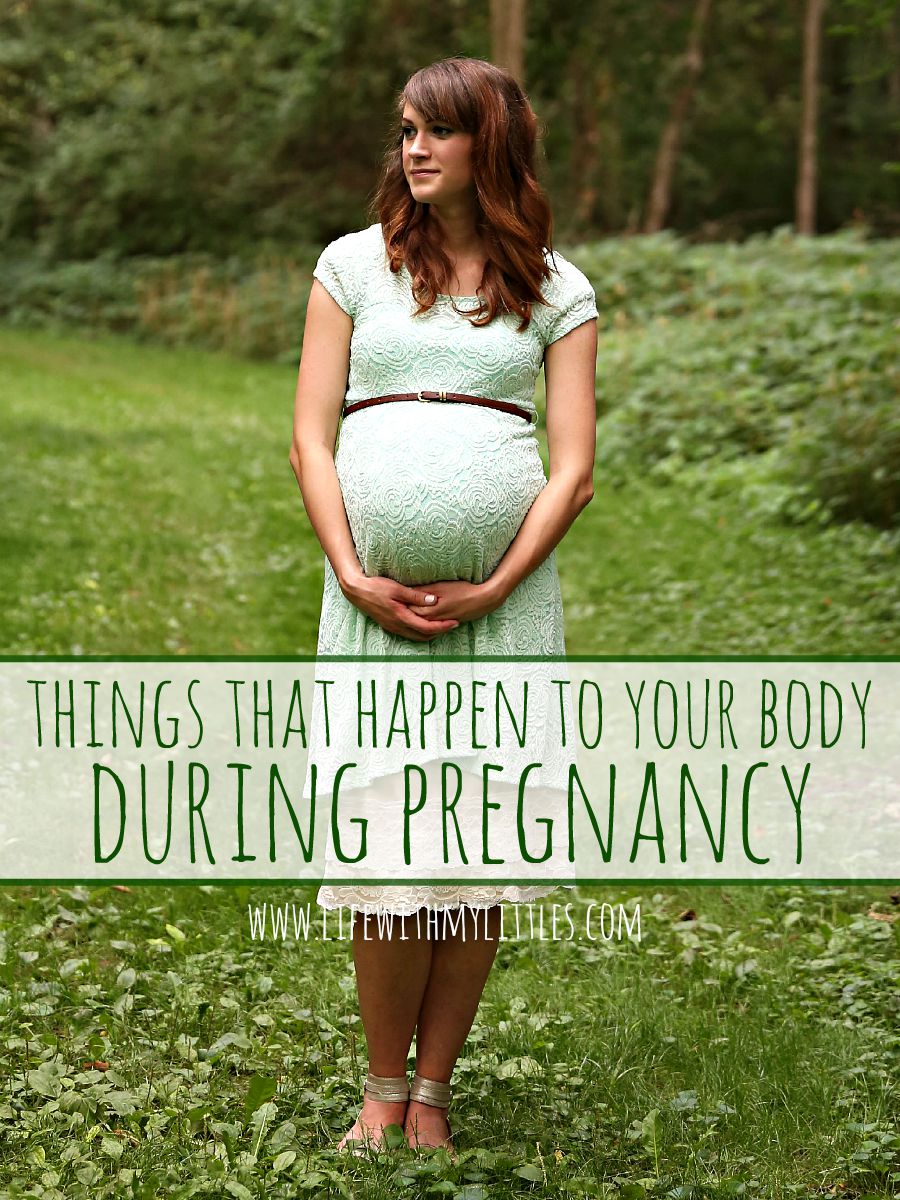 I know pregnancy is a beautiful, wonderful, special time in a woman's life, but it's also super hard. Pregnancy is a beast, and it SERIOUSLY takes a toll on your body. During the first trimester you are sick and have to pee all the time and then during the third trimester everything hurts and you can't even walk normal. It's worth it in the end, but that doesn't make it much easier.
Pregnancy does some crazy stuff to your body. You are essentially sacrificing your body for nine months to grow a human. And regardless of if this is your first or fourth pregnancy, you might be wondering if the weird things that are happening to you are normal. I decided to put together a list of all the things that happen to your body during pregnancy (and are totally normal). So don't panic if you start experiencing one of these things, because I promise, it's normal and other pregnant women have experienced it, too! You can blame all of these things on pregnancy!
1. Carpal tunnel. This is where you get a pinched nerve and part of your hand or arm goes numb, feels tingly, or is painful. I had it at night when I was pregnant with my son, and I had to wear a wrist brace when I slept. It went away after he was born. Super weird.
2. Acne. Thanks to your wonderful hormones during pregnancy, your face might suddenly look like it did when you were a teenager. The good news is that it will clear up after your baby is born!
3. Popped belly button. I feel like most people know that towards the end of pregnancy, your belly button becomes a super outie. It's super fun (not) when you can see it through all your shirts.
4. Stretch marks. Not just on your belly, either. Stretch marks can happen on your butt and thighs, too. Pretty much anywhere you gain a lot of weight fast. I gained 50 pounds when I was pregnant with my son, so that explains why I had them everywhere!
5. Amazing hair. One great thing that pregnancy does is that your hair gets super shiny and thick and feels amazing! Because of your hormones, it grows faster and grows wonderfully. So look forward to that, because it changes after your baby is born!
6. Linea nigra. This is a vertical dark line on your abdomen that goes up to your belly button. Not all women get it, but it's super weird. No need to be alarmed, though. It's totally normal.
7. Waddling. Thanks to the baby positioned down in your abdomen, towards the end of your pregnancy, you start waddling. No more walking normal for you! Husbands think it's super funny and like to make fun of you, but it's definitely not funny. It's uncomfortable!
8. Nausea. The degree of nausea and how long it lasts varies, but in the first trimester (and sometimes into the second), nausea is very common. It sucks, yes, but eventually it will go away. (Here are some ways to deal with it)
9. Breast changes and tenderness. Sometimes bigger isn't always better, because along with the size change, your breasts are going to be tender and even bumping up against something will hurt. Make sure you invest in a good bra because it will make a big difference in your comfort level.
10. Varicose veins. These might pop up in your legs, especially as pregnancy progresses. As the pressure of your baby on your lower body gets more intense, your veins have more pressure on them, and that's when varicose veins happen. I didn't have these when I was pregnant with my son, but with my daughter, I got them pretty bad in my legs. They did go away after she was born, but they are starting to come back so that's no fun. Compression stockings can help, but if you are pregnant during the summer like I was, you might think twice about wearing them.
11. Cankles/swelling. Your hands (goodbye, well-fitting wedding ring), your feet (hello, flip-flops), and those glorious cankles. The pressure from your baby causes other problems, too!
12. Hemorrhoids. And another problem from pressure on your lower body. Hemorrhoids can be internal or external. Hopefully you don't have to deal with these, but if you do, it's normal and you can get them treated.
13. Heartburn. The progesterone you are producing relaxes the muscles of your uterus, but it also relaxes the valve between your esophagus and stomach, which leads to acid sneaking it's way out and making you feel like your chest is on fire. Take some Tums and prop yourself up with pillows. It will be over soon!
14. Weight gain. Obviously. I'm not even going to explain this one.
15. Eyesight changes. Those darn hormones are at it again. It's not a big deal and it's usually not super dramatic, so don't worry and don't go buying new glasses. Your vision will go back to normal after your baby is born.
16. Itchy belly. Okay, so I know this isn't like a technical term, but with my pregnancies my belly got super itchy as it stretched and my babies got bigger! It's super annoying, and all you can really do is make sure you put lotion all over your belly.
17. Back pain. Especially lower back pain. It's rough and it makes everything uncomfortable (walking, sitting, sleeping).
18. Gas. It's the worst. And as your abdomen stretches and things down there change, it gets harder to keep it in. And it hurts, too. So you will feel like a balloon sometimes. Just excuse yourself and blame it on pregnancy.
19. Cravings. When I was pregnant with my son I went through the Arby's drive-thru several times a week because I could not get enough of their mozzarella sticks. And when I was pregnant with my daughter, all I wanted were Pringles. Cravings definitely strike during pregnancy, and it's totally normal!
Pregnancy changes your body in some pretty big ways. Some of them are super uncomfortable. But you know what else happens to your body during pregnancy? A HUMAN FORMS IN YOUR BELLY. Yeah, how insane is that? You are making a human. And not just any human, your human. It might look like you, it might act like you, it might like the same things as you. Guys, it's so worth it. All the crappy things that happen to your body during pregnancy are so worth it. Because when it ends and someone places a tiny crying baby in your arms, you forget about all of it.
And if you thought you would "get your body back" after pregnancy was over, you should probably check out this post about things that happen to your body after your baby is born.