These ice cream cupcakes are the perfect summer treat! It's so cute how she bakes the cupcakes in ice cream cones!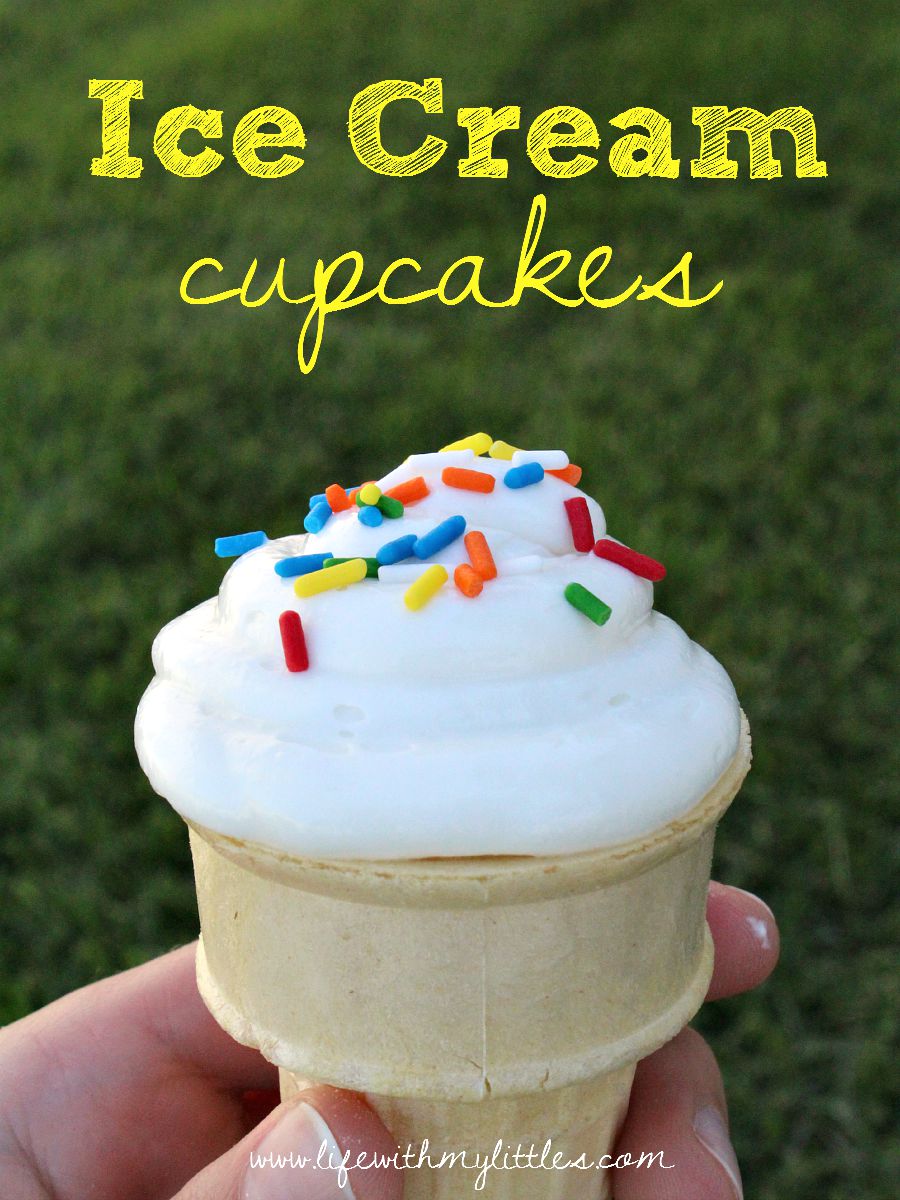 Growing up there was one treat that my little sister and I always loved. Sometimes my mom would make us cupcakes inside of ice cream cones! They were so yummy and so much more fun than regular cupcakes. They were the perfect summer treat, and we were always really excited whenever my mom would make them.
Now that I have kids of my own, I knew I wanted to recreate those cupcakes. It was actually a lot easier than I thought, and now that I know how easy it is, I'm sure I'll be making these all the time!
All you need is an aluminum cake pan, 24 ice cream cones, 1 box of cake mix, 1 tub of frosting (or two, if you want more ice cream-looking cupcakes), and sprinkles.
First, you need to prepare your aluminum cake pan. To start, set a cone in the corner of your tray.
Next, trace around the bottom of your cone with something sharp (like a knife). I didn't use a pen or pencil because I didn't want it getting onto the cones in the hot oven. You will want to move the cone so you can have 12 cones in the tray.
Now use some scissors and cut a little bigger than your circles. The cones get bigger as they go up so the circle you traced isn't going to be big enough. But it gives you a good idea of where to start and that's why you trace them.
Stick 12 of your ice cream cones into the holes. They might not all be the same height, but as long as they are in the holes and are steady, you will be okay.
Now prepare your cake mix according to package directions.
Pour your mix into the cones, filling them 2/3 of the way full.
Now bake your cupcakes at 350 degrees for 25-30 minutes. You will want to watch them. They will be done with they start browning on top, and a toothpick comes out clean (make sure you test them or you will have undercooked cupcakes!).
Now let cool COMPLETELY before frosting them. If you want an ice cream cone look to your cupcakes (which, I'm assuming you do since you are here), you will want to use a pastry bag and tip to ice your cupcakes. I used a large Wilton round tip, but you can do whatever you want.
Now add some sprinkles and ta-dah! You have the perfect summer treat!
Ice Cream Cupcakes
Ingredients
Aluminum cake pan
24 ice cream cones
Box cake mix (and ingredients on box)
1-2 tubs frosting
Sprinkles
Instructions
Cut out 12 holes in your cake pan by tracing bottoms of cones and then cutting a little bit bigger.
Stick 12 ice cream cones into the holes.
Prepare your cake mix as directed.
Fill ice cream cones ⅔ full.
Bake at 350 degrees for 25-30 minutes, until they start to brown and a toothpick comes out clean.
Frost with a pastry bag and tip.
Top with sprinkles!
If you are going tall with these bad boys, I would recommend refrigerating your cupcakes. Otherwise, your frosting will start to melt (just like ice cream) and sink into itself.
Now that you know the secret to these super cute and easy ice cream cupcakes, go make some!! Your family and friends will think you are super creative and want to know how you did it!
What kinds of summer treats did you have when you were a kid? Let me know!