After trying lots of different things, this mom of two figured out the easiest bedtime routine! You have to try it! It's so simple, but so effective.
This post is sponsored by Orajel.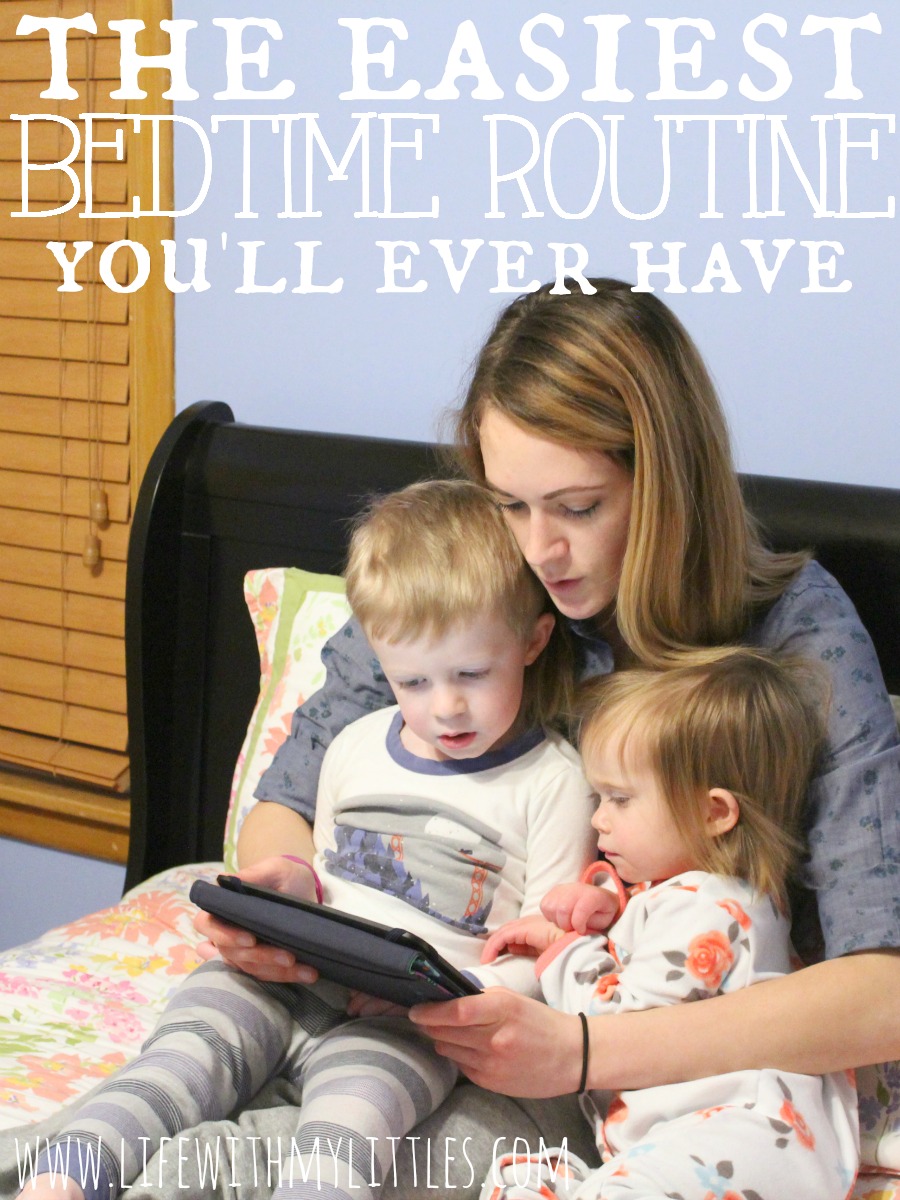 We have tried a lot of different bedtime routines since our son was born three years ago. We've tried different combinations of baths, lotions, goodnight books, and lullabies. Most of the time, one of our kids cried about some aspect of the routine. Nothing we tried really felt right for our family. It just felt too forced.
But a few months ago, we stumbled upon the perfect combination for my two toddlers, and it just so happens to be the easiest bedtime routine you'll ever have.
First, we change diapers/have potty time and get jammies on.
Next, we brush our toddlers' teeth.
Last, we read out loud, say a family prayer, and tuck them in bed.
Nothing complicated, it takes 10 minutes, and it helps our kids know that it's time for bed and they need to calm down. Basically, it's every parent's dream.
If you aren't sure how to add these into your bedtime routine, here are some tips:
Get a fun toothbrush and toothpaste to help encourage your kids to brush their teeth. Little J was lucky enough to try out a new Orajel™ PAW Patrol™ toothbrush and toothpaste and he loved it! He was excited to brush his teeth and use his new toothpaste, plus the Orajel™ PAW Patrol™ products are a great way to transition you little ones to fluoride toothpaste to help protect against cavities to keep young teeth and gums healthy. It's a win for everyone! And using a fun toothbrush helped him stop fighting when it was time to brush his teeth!
Brush with them. Most nights, I brush my teeth either right before or right after we brush our toddlers' teeth. Seeing me brush my teeth always makes our daughter smile, and it helps set a good example for them to brush their own teeth!
Try reading some new books. Kids are always excited when you read new books with them! Even e-books are great for reading together!
Read a short book at first and work up to longer books. If reading hasn't been a part of your routine before, you're definitely going to want to start with a shorter book. Toddlers don't have a very long attention span to begin with, and if you try and read a book with tons of words and lots of pages, it probably won't go over well. So start with something short and work your way up to longer books.
Read with your whole family. One of my favorite things about our bedtime routine is that we do it together. I read to the kids every day when my husband is at work, but it's a lot more fun when we all sit on my son's bed together and read our bedtime story. It's a great way to end your day, and it's nice to be able to listen to the story when my husband reads instead of me!
Bedtime routines are so important in helping kids get a good night sleep, and they are even more fun when you do them together as a family. I'm glad we figured out this simple and fun bedtime routine because it really has made a difference in how easily our toddlers go down for bed!