Stop hating on the Pinterest moms! If you've been feeling pressure to be super crafty and creative, this is definitely worth reading!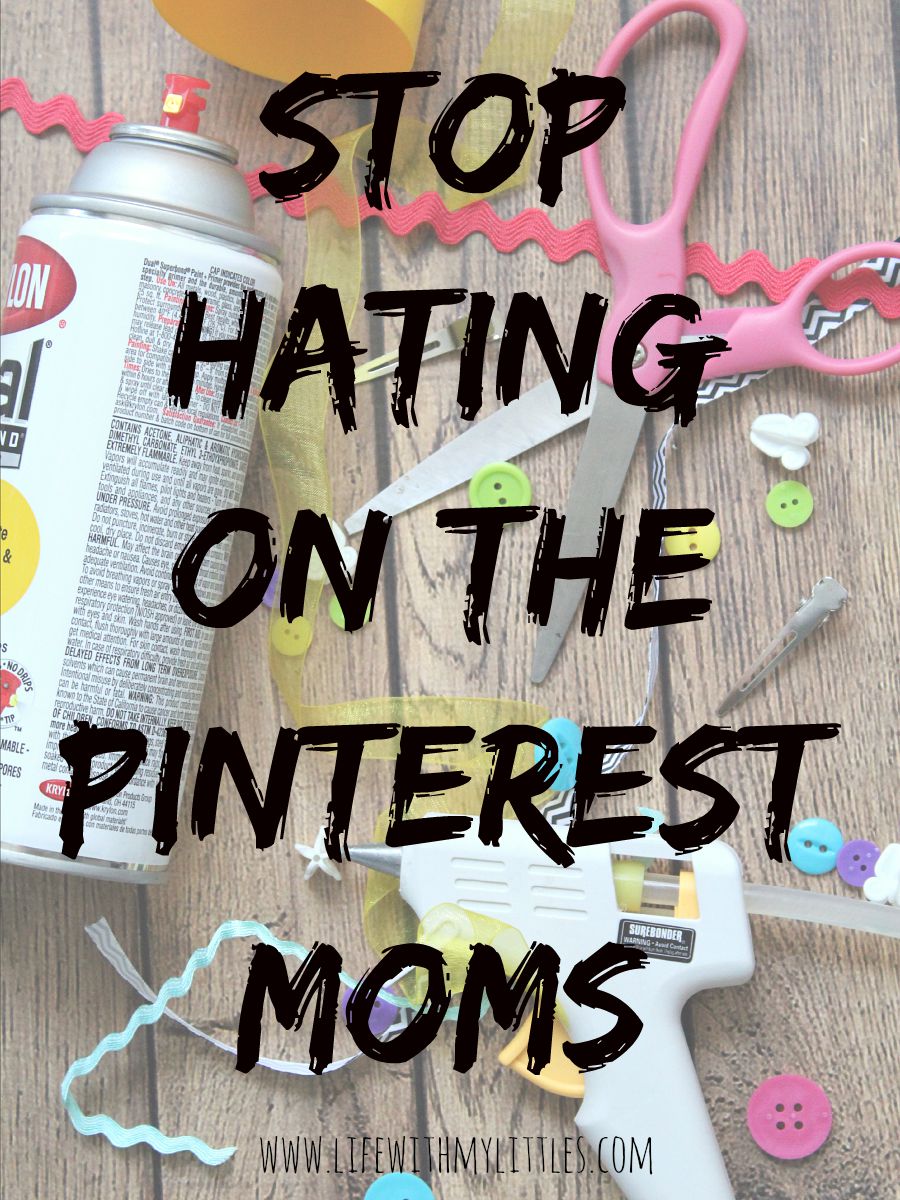 I feel like I have read a lot of articles recently about moms hating on other moms for going all out and actually doing things they see on Pinterest.
It might be an elaborate, over-the-top party with tiny details and personalized party favors, or clever Valentine's Day cards with funny sayings and a home-baked treat made for every student in the class, or even a complicated scavenger hunt, fort, Frozen-themed playdate.
Whatever it is, there has been a lot of negativity towards the moms who actually do the things on Pinterest for their kids. For the most part, other moms are saying that Pinterest has pressured them into feeling like they have to do it all (and do it well) for their kids. And I totally get that. It can be hard to see all these amazing things that other moms do for their kids and then not ever get around to doing them yourself because you are busy with your other kids, your job, or other things going on in your life.
That's fine. I get that. I get the pressure you feel to measure up and be a Pinterest Mom.
The problem is that the moms who feel the pressure turn their stress and anger towards the Pinterest Moms and rant about how it's ridiculous that moms take the time to personalize treats and get crafty and their child's school parties. They rant that the kids don't even care, or that it makes them look bad when they don't do the same thing.
Now I don't have school-aged kids, and I haven't ever made cute little Valentines for my two-year-old to give to his two-year-old friends. But I love when other moms do their best and make something cute because they like doing it. I have no problem with moms putting together handy little "teacher survival kits" for their kids' teachers on the first day of school. If my son gets a personalized party favor from a birthday party we take him to, I'm not going to be offended.
I feel this way because I think that everyone has a talent, and for some moms that might be being super crafty and having the ability to make things they see off of Pinterest. That might be the Pinterest mom's strong suit. Maybe she's bad at keeping up with laundry or bad at decorating her house (and maybe you're super good at those things).
The point is, everyone has strengths and weaknesses, and we shouldn't criticize each other just because our weakness is someone else's strength and that stresses us out. It's fine if you don't feel crafty enough. I'm sure that you have something you are super good at, just like the Pinterest moms do. Be proud of it! Develop your talent instead of tearing down someone else's.
And if Pinterest is really stressing you out that much, stop looking at it. You don't need to measure up to anyone. Because at the end of the day, your kid is going to love you whether you buy a treat for her class at the store or bake something at home. It really doesn't matter all that much.
So please, stop hating on the Pinterest moms.