This road trip survival kit for toddlers is genius! And the perfect road trip idea for toddlers! They'll stay busy and won't complain or cry!
This shop has been compensated by Collective Bias, Inc. and its advertiser. All opinions are mine alone. #GetPackin #CollectiveBias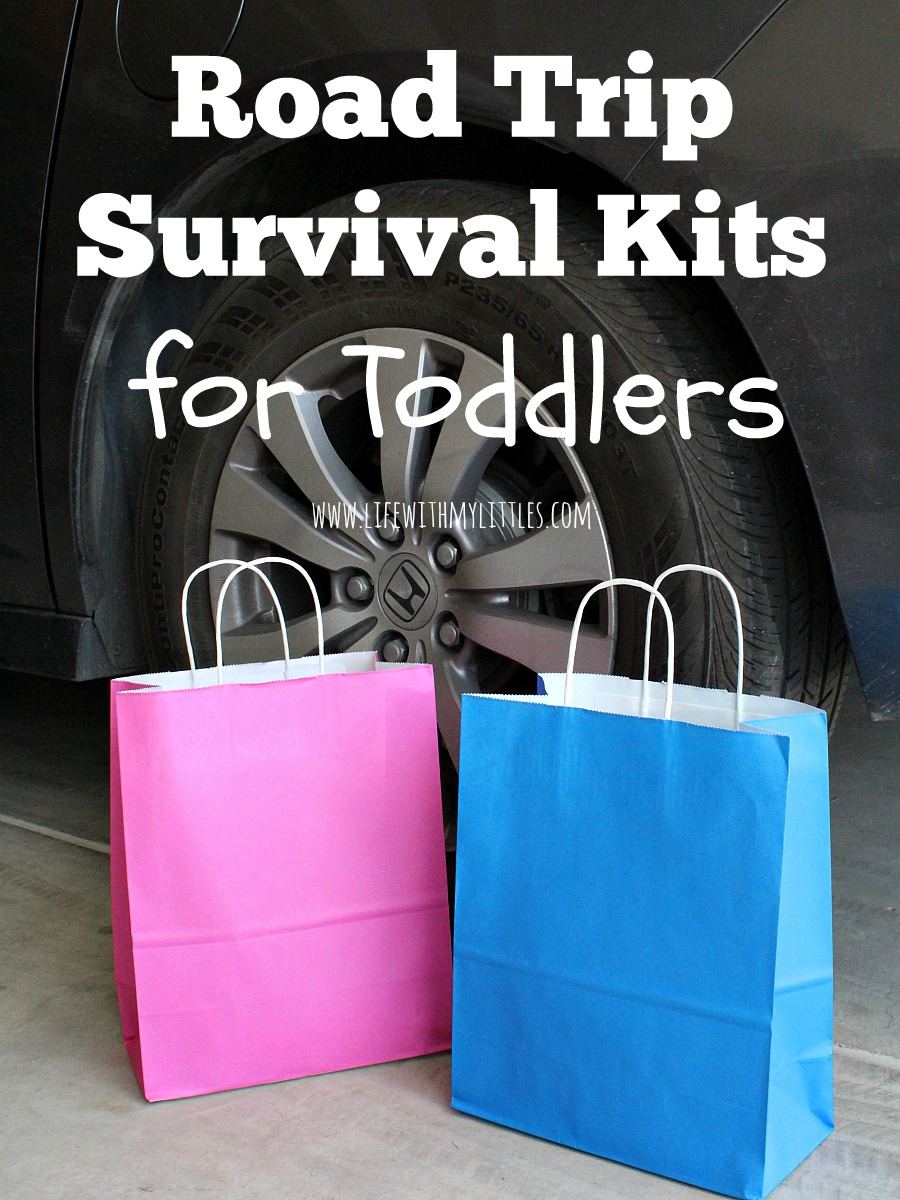 Going on a road trip with a toddler is always risky business. You never know how they're going to behave, if you're going to survive, or if you're going to have to stop in the middle of nowhere just to get some fresh air.
Two months ago we took a giant road trip when we moved from Idaho to Texas. We were fortunate enough to be able to have a moving company drive all of our stuff down, but that meant that my husband and I had to drive our two cars separately the whole 23 hour drive. Yikes.
But lucky for us, I was prepared. Two of our good friends put together some road trip survival kits for us, and they made a world of difference. I know we wouldn't have survived if we didn't have them, so today I want to share some helpful road trip survival kits with you! They are super easy to put together, and they will make your trip so much better (and they'll help you stay sane on your drive so you'll be ready for fun when you get to your destination!).
And this summer, Mondelēz is hosting a sweepstakes called the Mondelēz Summer Road Trip Sweeps where you can win weekly road trip prizes, as well as enter for the grand prize! It runs from June 27th to July 24th, and you can enter right here!
Anyway, when I first start planning a road trip, I usually make a big long packing list. With two kids under four, there are a lot of things that you have to bring! And one thing I always find I have to do in the middle of packing is go to the store. Please tell me that's not just me! Anyway, there are some things you'll want to pick up for your road trip survival kit for toddlers while you're there.
One of the most important things for your kids (and for you) to have a successful road trip is to buy snacks before you get on the road. You save money that way and that way you don't have to stop every hour for something to eat. For our survival kits I grabbed the 1.9 lb bag of SWEDISH FISH Soft & Chewy Candy, a 12 pack of HONEY MAID Dippers Honey Graham Snacks, a 12 pack of Mini CHIPS AHOY! Cookies, and a 12 pack of HONEY MAID TEDDY GRAHAMS Graham Snacks from Walmart. There are even coupon booklets on specially marked packages that include coupons for RITZ Cracker Sandwiches, BELVITA Sandwich Breakfast Biscuits, SWEDISH FISH Soft & Chewy Candy 1.9 lb. bags & TRIDENT Unwrapped Gum. Perfect for your survival kit!
I also grabbed a few other things and when we got home, I went to work putting together our road trip survival kits.
First, you'll want to start with a bag to keep everything in. These little gift bags are cheap and big enough to hold everything nicely!
Then, you want to add in your goodies. I put some SWEDISH FISH in a ziploc bag, as well as one of each of the HONEY MAID Dippers, Mini CHIPS AHOY!, and HONEY MAID TEDDY GRAHAMS in each bag.
Then I stuck in some fun activities to keep my kids busy. When our friends made us our bags, this was the kind of thing they put in and it was PERFECT for our 1 1/2-year-old and 3-year-old. Some ideas you can add are a coloring book (more to look at than anything, especially if your toddler is younger), some stickers, and a Play Pack. The Play Packs come with little coloring/activity books, crayons, and more stickers. They are awesome for keeping kids busy.
Once you have everything packed in your car and your survival kits all made, you're all ready to go! In our case, this meant saying goodbye to our old house and piling in our two cars to make the long drive!
Like I said, we split our drive into three days. The first night we stayed with my parents in Colorado, and the second night we stopped in a little town in northern Texas. Having those road trip survival kits made such a difference in how often our kids complained or cried. It was one of the best road trips we've ever had!
After three days, we successfully made it to our new home. Everyone was happy and ready to start exploring our new town! It really does make a difference when the traveling part of your trip is enjoyable!
Road trips with toddlers may seem intimidating, but you really can make them fun. For more fun road trip ideas, including printable road trip games and more tutorials, check out this site.