This simple summer schedule is a great way to have a more relaxed, flexible summer vacation, but still enjoy scheduled activities! Nine easy activity ideas and how to implement them to make the most of your summer! Great for toddlers, preschoolers, or elementary-aged kids!
This post contains affiliate links.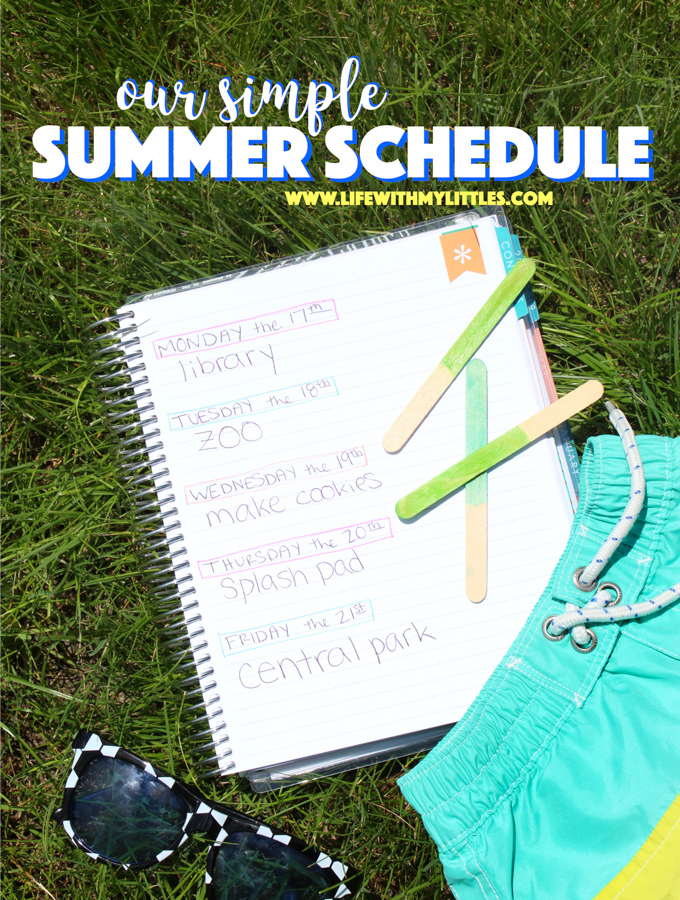 Since my oldest finished kindergarten this year, this is our first real summer vacation.
Sure, we enjoyed summer and did fun things last year and the year before that and every other summer before, but this year it feels more important that we maximize our time together and enjoy the break from school.
Before school ended, I wanted to come up with a simple schedule that would give us things to do so my kids weren't complaining that they were bored and so that I didn't lose my mind a week into summer vacation. But I didn't really like the traditional summer schedules (Make It Monday, Take a Trip Tuesday, that kind of thing). I wanted it to be more relaxed and less strict.
So I sat down and wrote out several different activities that we could do, and figured we could just do them when we wanted. No particular activity has to be on a certain day, (which is nice because sometimes you can't go swimming on the same day each week), and my kids can help decide what we do every day.
At the start of the week, my kids and I decide what we want to do that week. We plan out a week at a time and choose one fun thing a day. Sometimes it's a big day trip and sometimes it's something a lot easier and faster. But we try to do one fun thing a day, and only one thing a week that costs money.
Here's our list of activities on our simple summer schedule:
1. Bake/cook something
Either cookies or something from a kids' cookbook like this
or this
2. Make a craft or do an activity
I usually find something from Busy Toddler that they can do
3. Water play
Swimming, a splash pad, running through the sprinklers, or water balloons
4. Field trip
This is usually somewhere that costs money like the zoo, an indoor playground, a trampoline park, a museum, or a day trip (these are good to do on rainy days!)
5. Visit a new or favorite park
6. Movie
Go to the theater, the drive-in movie, project a movie on the side of the house, or have a movie marathon inside (another good rainy day activity!)
7. Library
8. Service activity
These 11 ideas are great for kids
9. Special treat
Like going to get ice cream, cupcakes, donuts, or cookies
They're pretty simple ideas, but planning them out and picking one to do a day gives the kids and I something to look forward to. And since most of them don't take all day, we usually do a walk or a bike ride or go to a close park in the afternoon when my youngest wakes up from his nap. My kids also usually color or do their school workbooks
while I make dinner. Or play outside (they do that a lot, too!).
If you wanted, you could even write them on popsicle sticks and put them in a jar and have your kids pick out a different activity each morning. Or get a big dry erase calendar and write out activities for the whole month. Seriously, whatever works for you!
Sometimes we have late nights, sometimes we go to bed on time (my kids wake up at the same time either way). The whole point is to make the most out of summer vacation and not to feel like you HAVE to do a specific thing every day. Flexibility is key!
And I know this isn't like a super fancy detailed post, but I figured it might help out some mamas who are already struggling with trying to find something to do each day this summer. It works for toddlers, preschoolers, or elementary-aged kids. Probably middle school, too, but I don't have one of those for a while 🙂
I actually had a different post scheduled to go up today, but wanted to share this since we've been having so much fun with it! I hope it helps! Happy summer, mamas!