See why the JJ Cole Collections Camber diaper bag is perfect for busy moms! It's the best!
I received free product in exchange for this post.
When you become a mom, you give up your purse and trade it in for a diaper bag. Your diaper bag is one of the most important things you will buy before your baby is born, because it goes everywhere with you when your baby arrives. And it becomes even more important in your life when you have your second baby and twice as much stuff to haul around!
I was lucky enough to try out the new JJ Cole Camber Diaper Bag, and I am absolutely in love with it! It gives me room to fit everything I need, and it doesn't feel bulky at all. And when you are already going out with a toddler and a baby in a car seat, you do not need any extra bulk to carry!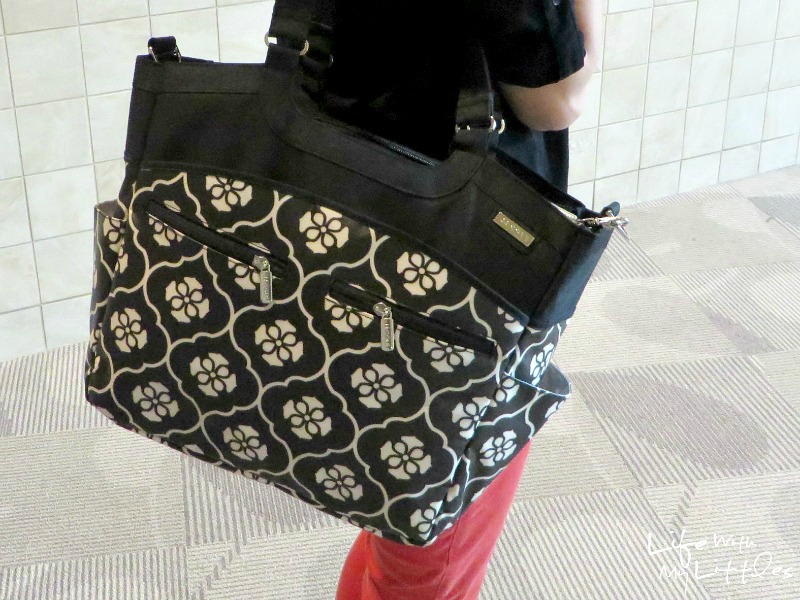 Picking a diaper bag that you are going to carry around all the time can be overwhelming, so I am going to tell you all the reasons why I love my Camber so that you will love it, too!
First, it's stylish. Classic black and white and I love that floret design. I also love that the pattern is only on part of the bag, and the top and straps are solid black. Some bags have patterns that are overwhelming and way too much, but this one is perfect.
It also isn't super girly. The Mister used to hate carrying around my old diaper bag. It wasn't pink or anything, but it was pretty feminine. I love that my Camber is black and white, has a classic pattern, and doesn't scream "GIRL!" It's simple but still cute. But not so cute that my husband can't carry it!
I also love that it comes with three different carrying options. My favorite so far has been the shoulder strap because I can swing my bag to the back and free up both arms for carrying Little J on my hip and Little A in her car seat. You can also use the tote straps and carry it on your shoulder like a regular bag. The straps are long enough that when it is on your shoulder it's not right in the way of your arm. The third option uses the included no-slip stroller attachments. I also love this because it keeps my bag right where I need it without me having to carry it. It's a lot more convenient than shoving your bag underneath the stroller in the basket.
The Camber also holds everything I need without feeling bulky. I love that it is more of a boxy, tall and narrow shape, because it's not awkward to hold, it doesn't stick out in weird directions, and everything stays nice and organized inside. I can fit my things like my changing pad, diapers, and wipes, snacks for Little J, extra outfits for Little A, and my nursing cover, without having my bag feel like it is overcrowded. This is another of my favorite things about the Camber!
The material of the Camber is a laminated canvas, so if you get something on it (easy to do with a toddler!) then you can wipe it right off! And the inside is polyester so if you get crumbs or spill some juice in there it will wipe quickly instead of absorbing. This is such a plus with diaper bags because when you have a little there is pretty much no way around a few spills and crumbs! There are also four big and stretchy pockets on the inside. Perfect to keep you organized!
There are a few other features of the Camber bag that I love, too. It comes with a wipeable changing pad, so if you don't have your own it's no big deal. The zippers in front are also more than decoration and the pockets are perfect for putting things that you need to use a lot (like chapstick or sanitizer). There are also two side pockets that I have been using for my cell phone and Little J's sippy cups. They are deep enough that there's no way they are falling out, and because the straps on the bag are so long, I don't have to worry about constantly hitting his cup (which I had a problem with on my old bag). There are also two deep pockets on the front and bag that are perfect for storing papers you need to carry or things you need to grab fast. Which as a mom, is pretty much everything. I also love the interior pockets. It helps keep me organized so I know where everything is in there.
Basically, I love my JJ Cole Camber diaper bag. It is everything you need in a diaper bag, and more! I know that sounds cheesy, but it has so many amazing features and the construction of it is just perfect for a busy mom. I will never go back to another diaper bag because it really has everything I need. And when you are a busy mom, an amazing diaper bag will save you from craziness on-the-go!
If you want to check out how amazing the Camber bag is, or see it in any of the eight colors it comes in, check out the JJ Cole Collections website here! There are several different patterns and colors so I'm sure you'll find one you love! And check back on Monday to see what my diaper bag essentials are for the first six months of baby's life!