This post is sponsored by Kleenex® Facial Tissue.
Need some help saving money shopping for school supplies this year? Here are 7 tips to help you save money on back-to-school shopping!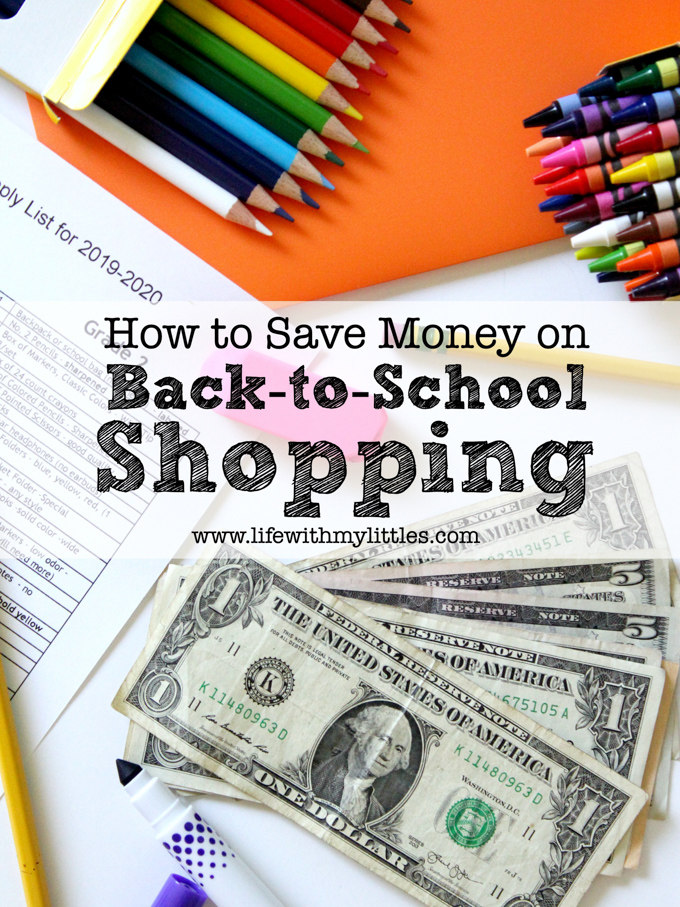 My oldest son starts first grade next month, and while we've had a fun summer playing all together, we're both excited for him to go back to school in a few weeks.
One of our favorite things from back-to-school season last year was watching my son pick out supplies and check things off his list. Who knew picking out pencils and notebooks could be so exciting?
This year, his school supply list went up in July, and as soon as we got the list, he was ready to go shopping. Unfortunately, his list is a little bit longer this year, which inevitably means his school supplies are going to be more expensive. Luckily, I've picked up a few tricks to help us save money on back-to-school shopping!
How to Save Money on Back-to-School Shopping
1. Use price matching when you can.
Some stores offer price match guarantees, which means if you find the product for a lower price online or in a competitor's ad, they'll give you the lower price. Since lots of store ads feature back-to-school items, taking advantage of price matching is a great way to save money!
2. Shop early.
Within a week of getting my son's list for first grade, we headed to the store to shop! One benefit of shopping early is that you can easily find everything on your list. Last year we shopped the week before school started and stores were out of a lot of things so we had to pay higher prices to get them elsewhere. So make sure you shop early when there's a wide variety of brands and you can get the cheapest products!
3. Shop in bulk.
Shopping in bulk is a great way to save money in general, and school supplies are no exception! One thing that is always on school supply lists is the Kleenex® Facial Tissue bundle pack and there's no better place to shop in bulk than Costco! From August 7-September 1, you can save $4.50 on the Kleenex® Facial Tissue bundle pack! It comes with ten-twelve boxes of Kleenex® Facial Tissue (depending on the store), so you can either split them up between your kids or donate them all to your child's classroom!
My little sister is a teacher and I know how much money she spends on supplies for her classroom. With school budgets getting tighter, teachers are buying more school supplies with their own money. I love the idea that Kleenex® Facial Tissue has come up with of being a Classroom Hero and helping stock classrooms with essential products that teachers might otherwise have to purchase (tissues being one of them!).
I love these Kleenex® Facial Tissue bundle packs from Costco because they have either 10-12 boxes per pack, and they have 40% more tissues per box than the best-selling Kleenex® Facial Tissue box in the rest of the market (instead of 160 tissues, they have 230 tissues in each box!) Talk about a bargain!
I always did my best to help support my son's kindergarten teacher last year by bringing in snacks and helping with parties. Even though we haven't met his teacher yet this year, I want to do the same and help be a Classroom Hero for her! My son is going to bring the whole pack of Kleenex® Facial Tissue in to school on his first day (although it's almost as big as him!).
4. Use coupons.
Another great way to save money on back-to-school shopping is to use coupons! A lot of coupon inserts include savings on school supplies this time of year. Clip them out and use what you can! You can even donate any you don't use to your child's classroom in case their teacher can use them (another easy way to be a Classroom Hero!).
5. Check for rebates.
There are lots of apps and websites that you can use to get rebates on things you buy simply by uploading your receipt. Some offer rebates just for shopping at certain stores, and some offer rebates on specific items. Even a few cents can add up over time!
6. Don't take your kids with you.
I know this might seem like it would make back-to-school shopping less fun, but if you're trying to save money on school shopping, this is an easy way to do it! Kids love character notebooks and backpacks and pencils, but they're usually more expensive! So leave your kids at home and buy generic and solid-colored school supplies. I bet you'll save a few dollars in the process!
7. Shop during tax free weekend.
If your state has a tax-free weekend, it's probably sometime in August, and that's the perfect weekend to go back-to-school shopping! You won't have to pay state taxes on your purchase, so you'll at least save a few dollars!
Saving money on school supplies is actually pretty simple, as long as you plan ahead! Hopefully these simple tricks can help you save money on back-to-school shopping, and even motivate you to be a Classroom Hero this year! Maybe your generosity in the classroom will help inspire your kids to think of others and be generous, too!
This is a sponsored post written by me on behalf of Kleenex® Facial Tissue.