Mama Amanda Stuhldreier shares the hospital birth story of her daughter on the Honest Birth birth story series! Amanda's water broke at 39 weeks and after being induced with Pitocin and pushing for almost two hours, her daughter was born. Amanda had a postpartum hemorrhage and symphysis pubis. A great story about the importance of advocating for yourself during pregnancy and childbirth!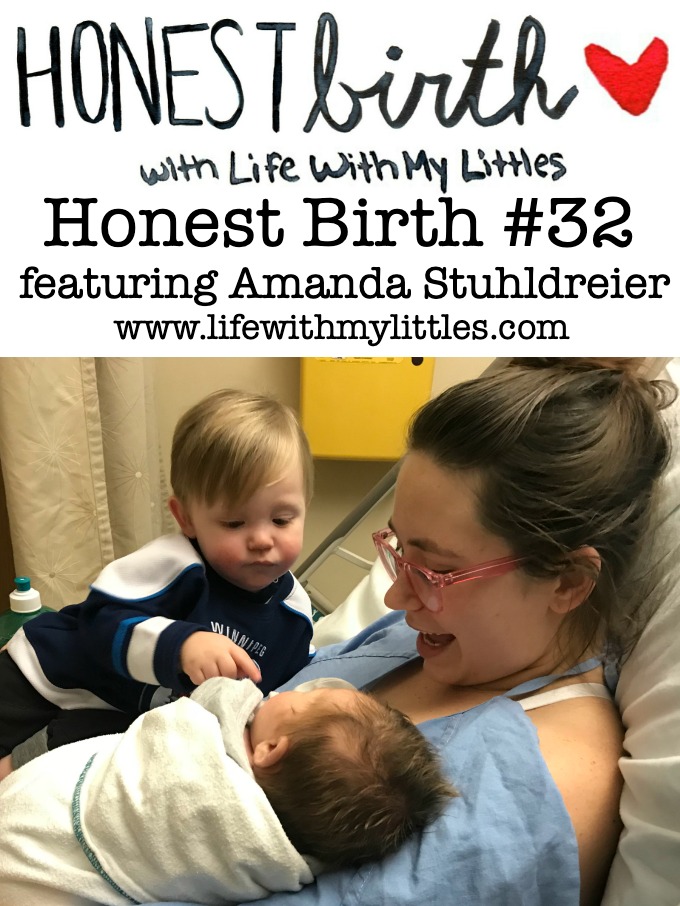 Hey mamas! Welcome to the thirty-second post in my Honest Birth series! I'm excited to share another real mama's birth story, because I think it's so important to share our childbirth experiences with each other. My goal with this series is to provide a place for women to share their birth stories without holding anything back, as well as compile stories for pregnant mamas to read in preparation for their own childbirth experiences. Every mama is different and every birth is different, and I believe that when we share our stories we help each other.
Today I am featuring Amanda Stuhldreier! Amanda and her partner Tim met playing in a recreational soccer league and live in Winnipeg, MB, Canada (where she's lived her whole life!). They have two kids, their son Ewan, who is 2-years-old, and their daughter Melanie, who is 10-months-old. Amanda juggles working full time as a Registered Nurse on a busy vascular unit, as well as being mom to her two kids. They love staying active together and enjoy running, biking, swimming, and soccer. Amanda loves trying new recipes in the kitchen, sweet or savory, with some success so far! You can follow her along on Instagram here. Today, Amanda is sharing the birth story of her daughter!
Ready to read her story? Here we go!
The Birth Story of Melanie Stuhldreier
I really wanted to share the birth story of my daughter because I didn't see the problems I was having to be out of the ordinary during my pregnancy, and I didn't listen to my body. My doctors didn't listen when I said something was wrong after the birth, either, and I'd like to share this in hopes that this doesn't happen to at least one other mom out there.
Since Melanie was my second child, I thought I knew what to expect. Let me tell you, every birth story is different. I was at the time breastfeeding my son when I got pregnant with Melanie; all the usual symptoms of pregnancy I didn't notice to be quite honest. There were a few red flags but very subtle. Becoming nauseated brushing my teeth, not being interested in drinking coffee (I am a huge fan of coffee) and crying watching the movie Up (in the scene where his wife dies). We didn't truly find out about her until I was already 15 weeks along; but I promise you we were just as excited as we were with our first.
This pregnancy was much different than my first. I got quite big, quite quickly, but I was all baby. I had a lot of trouble doing anything really – even just the dishes. I remember doing chores in 10 minute intervals and going to lie down for like 20 to 30 minutes before getting up again to try and finish what I started. I remember bringing this up at one of my prenatal appointments and being told this is normal when you're pregnant. But with my first I made it 38 weeks at work, doing just fine. Something wasn't right but I didn't know what.
I was having a lot of Braxton Hicks contractions at work, which ultimately made me decide to go off work early after an episode of staying in the hospital over one weekend around 33 weeks (for dehydration). I remember one of the doctors coming in asking if I was still breastfeeding my son because I needed 6L of fluids.
Right around this same time at one of my prenatal appointments I was told I was measuring large for gestational age. We went for an extra ultrasound to check on baby but all we were told was everything was normal and that her back was just large.
At 39 weeks and 4 days I woke up in the early morning to notice I was leaking fluid. It wasn't a large amount so we weren't sure if my water had broken (this had happened 3 times with my first and always came back negative so we kinda weren't sure if we really needed to go to the hospital) but we decided better to be safe than sorry. The results came back positive for amniotic fluid and I had the option to try to induce naturally or start Pitocin. I was feeling ready to meet our daughter and decided to be induced as we had absolutely no contractions even walking up and down flights of stairs for quite some time. Pitocin started at 3pm.
I didn't start having strong contractions until 8pm and in 2 hours I went from 3cm dilated to 10cm, when I was told I could start pushing. During this time I used Fentanyl for pain control as I was in a lot of pain and was told an epidural was not an option anymore. My partner Tim also helped me through guided breathing; the nurse told him 3 times over the course of having met him that he should become a doula. I remember like it were yesterday the nurse saying "oh this is your second baby, two pushes and she'll be out I promise". Well nurses, don't give this false hope to people because 1 hour and 45 minutes of pushing later my baby was born. They used a forceps delivery and because my baby was big she got her shoulder stuck during delivery and she also had a nuchal cord wrapped three times around her neck. They ended up having to dislocate her shoulder (shoulder dystocia) in order to get her out. I remember a resident pushing my sister away from helping with my legs in the stirrups because they really needed to get baby out. I was so relieved when the team of nurses and doctors took over her care to look after her but I ended up with postpartum hemorrhage. I blacked out twice, couldn't tolerate sitting up and didn't end up breastfeeding my baby for 8 hours postpartum.
After two blood transfusions and a bag of IV iron I was to transfer to the postpartum ward, but the weird thing was I couldn't stand up. It took three people to get me, at 26, into a wheelchair. We later pushed to get an X-ray because I couldn't stand or walk very well 2 days after having my daughter and found out I separated my pelvic bone during labour. It is called symphysis pubis and it happens between 1 in 300 to 1 in 30,000 births. My doctor didn't believe it all because I was able to kind of weight bear. It took two weeks for me to be able to walk again once we were discharged home. The reason I feel so strongly about needing to share my birth story is that if you notice or feel something might be wrong with your pregnancy, it doesn't hurt to ask and speak up for yourself.
Wasn't that great? It really is so important to advocate for yourself! And if you feel like your doctor or care provider isn't listening to you, it's always okay to switch providers, even if you're in the third trimester! Thanks to Amanda for sharing Melanie's birth story and thanks to all of you mamas for coming to read it! Make sure you follow her on Instagram and check back next month for another Honest Birth post!