Looking for non-candy ideas to fill your toddler's Easter eggs? Here's a helpful list of more than 15 non-candy Easter egg fillers for toddlers!
This post contains affiliate links.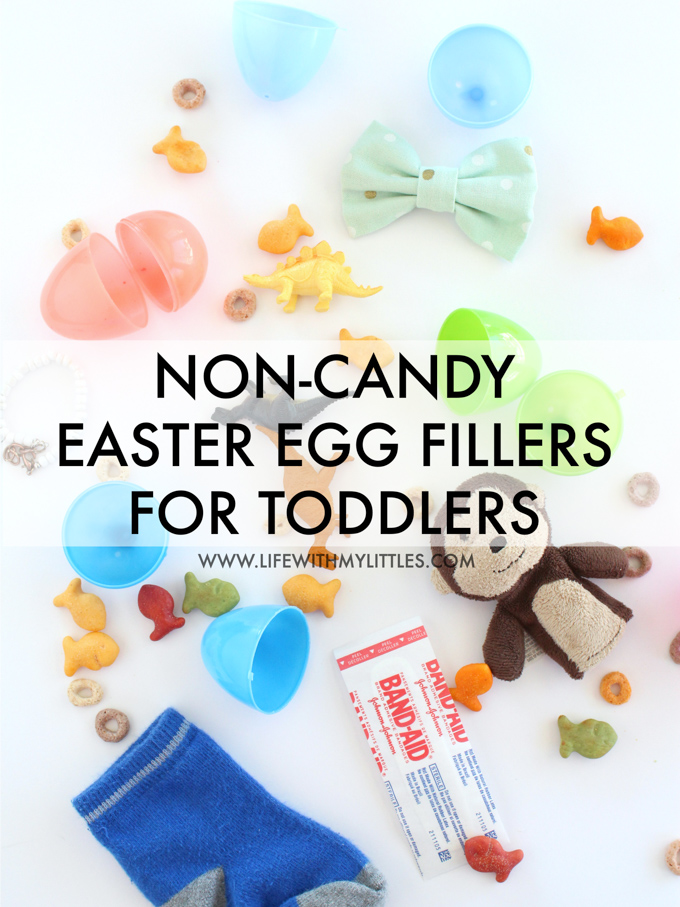 One thing that always makes me feel like such a mom is filling Easter eggs.
I love sitting on my bed after my kids go to sleep with a few dozen plastic eggs, filling them with treats and goodies, while sneaking a few jelly beans for myself (I mean really, how can you not?).
One thing we quickly discovered with our first child was that you can't fill every single Easter egg with candy. Jelly beans make toddlers CRAZY. Yes, they are delicious (I mean we already established that I sneak them myself), but they are pure sugar!
So over the last few years, we've tried to fill our Easter eggs with non-candy Easter egg fillers, especially when our kids are little. It takes a little more creativity, but Easter morning can still be a lot of fun with less sugar!
This year, Little R is two, and I know he's going to have so much fun hunting for eggs. I thought it would be fun to put together a list of some non-candy Easter egg fillers for toddlers, since that's what's been on my mind recently (and I'm sure on the mind of lots of other parents)!
Also, if you have older kids and younger kids and want to make sure they get certain eggs, try filling different colored eggs for each child! A genius idea from Sew Many Ways!
Alright, here are 18 non-candy Easter egg fillers for toddlers:
1. Socks
Yes! Socks! You can put a pair in an egg, or even put each sock in different eggs!
2. Fruit snacks
Open a pack of fruit snacks and split them between a few eggs!
3. Stickers
Sparkly stickers, foil stickers, a roll of stickers, or even one sticker per egg. What toddler doesn't love stickers?!
4. Finger puppets
My kids have all loved the little finger puppets we got when my oldest was born! They're so fun, and I love seeing them on tiny toddler fingers, too!
5. Small animal or dinosaur figurines
We have a few of these and my kids love getting them out to play. They're also great to use in sensory bins or for water play (here's an easy idea from Busy Toddler).
6. Goldfish crackers
I actually saw some fun spring Goldfish crackers out right now, and I am definitely going to put some of these in my toddler's eggs! You can also get some of the other flavors like Vanilla Cupcake or S'Mores for a special treat!
7. Mini Playdoh
I sort of hate Playdoh, but my kids love it. So when I'm in a really good mood, I let them play. And these tiny Playdoh tubs are perfect for Easter eggs!
8. Chalk
Another thing I'm not a huge fan of, but I'll let my kids play with when I'm in a good mood! Kids LOVE chalk! And these would fit perfectly into an Easter egg!
9. Color Bath Dropz
All of my kids love these, but especially my toddler! Just plop one into the tub and they turn the water a different color!
10. Magnetic letters
You could easily just do a whole set of Easter eggs filled with magnetic letters! And you can use them for so many activities (like this!)!
11. Mini bubbles
What toddler doesn't love bubbles? Just make sure they don't open them by themselves!
12. Hair bows
Little hair bows fit perfectly into plastic Easter eggs, and you could even give your toddler some to match her Easter dress! We love bows from Rylee Dee's Boutique.
13. Bath toys
These squeaky bath toys from Kidelle are so tiny and cute and would fit great in an Easter egg!
14. Self-inking stamps
Remember cute little stamps like these growing up? I used to love them! They would make such a fun Easter egg filler for toddlers!
15. Cheerios
If you don't have time to run to the store before you have to fill eggs, but you still want to give your toddler something fun on Easter morning!
16. Bracelet
I love squishy toddler wrists wearing bracelets! We have a few from Little Pretties and they are absolutely gorgeous!
17. Bowtie or tie
Another cute idea for your toddler's Easter church outfit!
18. Band-aids.
Basically glorified stickers, but little kids LOVE the ones with characters!
Easter is such a fun holiday to celebrate with toddlers, even if they don't completely understand why we're celebrating it. Hopefully this list of non-candy Easter egg fillers for toddlers helped give you some ideas, and if you have any more, let me know in the comments! Happy Easter!