We loved throwing our #DisneyKids Preschool Playdate! We went with a Mickey Mouse theme and everyone had so much fun! If you're looking for some ideas for activities or food to serve at a Mickey Mouse party, check this post out!
I received free product in exchange for hosting a #DisneyKids Preschool Playdate. All opinions are my own.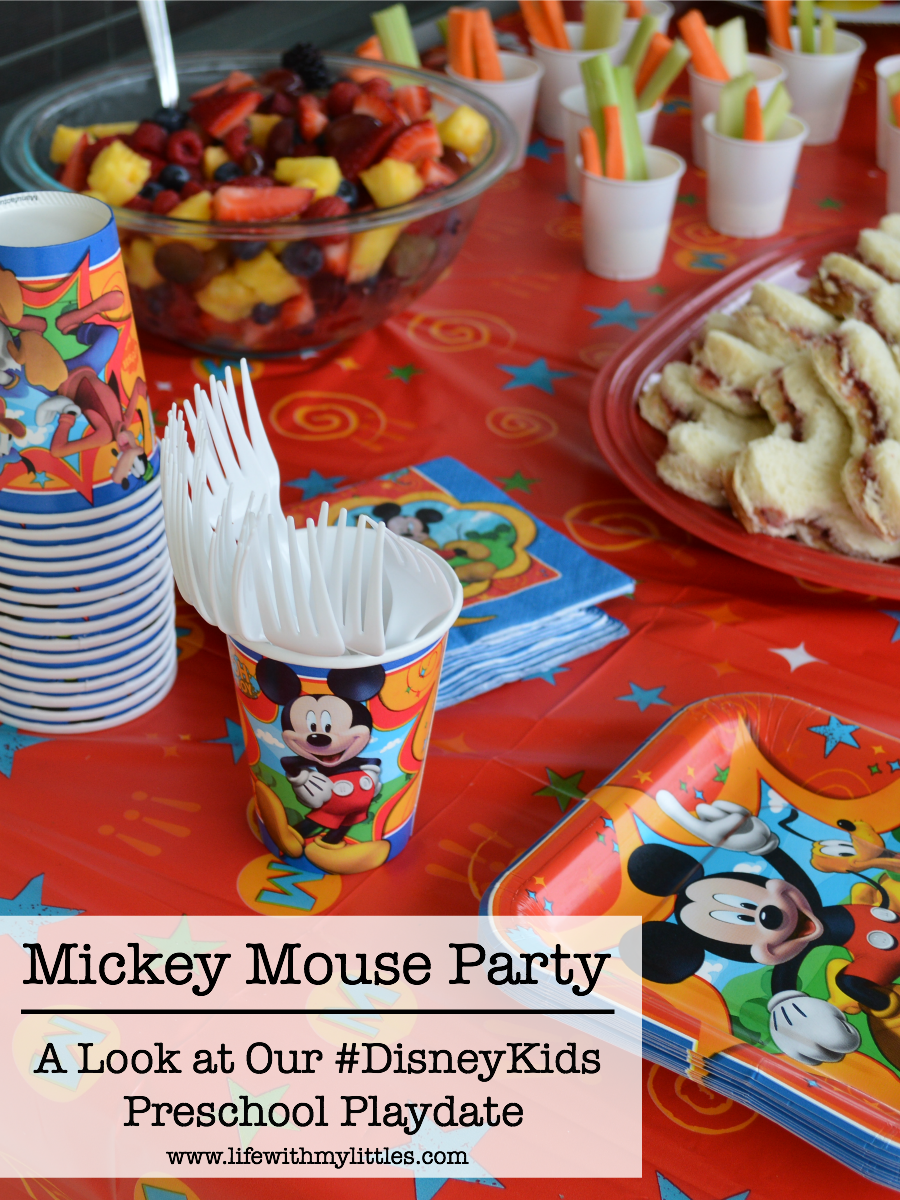 My family loves all things Disney. We love Disneyland, we love Disney shows and movies, and we love Disney characters. So when I got asked to host a #DisneyKids Preschool Playdate, I about flipped. My kids were both super excited to host a party and invite all of their friends, and right up to the day of our party they were asking how many days until our "Mickey party."
Guys, it was so much fun! I haven't put together a good party since Little A turned one, but I had such a good time getting everything ready. And I am 100% sure that all our little guests had a great time, too!
To announce our party, we used the HP Card and Invitation Kit that we got in our playdate kit. It was super easy to pick a cute Disney design, fill in the text, add a picture, and print them out. My kids both loved delivering their invitations, and their friends were all excited when they opened them!
I sort of go crazy when it comes to food for parties, and this one was no different. We had lots of food, but with eleven kids over the age of two and their mamas, I'm glad I made a lot! We had Mickey-shaped peanut butter and jelly sandwiches, fruit salad, and carrots and celery with ranch to start out. Then there were the desserts! Oh, how I love making desserts! We served rice krispie treats, Mickey sugar cookies, Mickey's "magic wands" (pretzel rods with vanilla candy melts and sprinkles), and delicious chocolate Mickey cupcakes (full tutorial here). I also decided to serve water, which was a good decision because it ended up all over our patio and my daughter! And of course, our playdate kit had Mickey Mouse napkins, cups, plates, and a tablecloth to serve it all on! We also "decorated" our patio using some fun Mickey Mouse swirl decorations. They kids were really bummed when I took those down at the end of the day!
I decided to let my 4-year-old decide what games to play and when since it was sort of his party, so as his friends were arriving we had them decorate Mickey sorcerer hats! They were just some simple blue party hats and different star stickers that were in our kit. It was easy and the kids loved making them! My kids even wore their hats for a few days after!
After everyone was done with their hats they made some fortune tellers that were in our kit. Remember cootie catchers? Well that's how you folded them, and it was fun trying to help all those cute littles make their own! And they loved the characters on the inside!
Then Little J decided he was ready to eat, so everyone took a break and had lunch. Everything was a huge hit, and despite me making 16 Mickey PB&J sandwiches, I only had 1 left at the end! The pretzels were a big hit, too! I guess I know what kids like!
After everyone was full and had spent some time playing on the playground, Little J decided he was ready for another game. I don't have pictures of this one because I was the one doing it, but we had all the kids play Disney character charades! Even though they may have not all gotten the concept of charades, it was so cute how excited they would get when they figured out a character. My daughter's favorite was of course, Sofia the First, and my son guessed Mickey first!
Our #DisneyKids Preschool Playdate kit also had some fun reversible hats for each kid, so after charades each kid got to pick whether they wanted a Sofia the First crown or a Jake and the Neverland Pirates pirate hat. They were so cute running around the yard in all of their hats, and at one point, almost all the kids were on top of the playground playing pirates! We mamas loved watching them use their imagination!
At the end of the party, Little J and his friend handed out Mickey goodie bags filled with Mickey trail mix that we had made the day before. We used Pop Secret popcorn, raisins, red, yellow, and brown chocolate candies, marshmallows, pretzel sticks, and tiny graham crackers. We also handed out a pack of HP Social Media Snapshots to each mama so they could make print out pictures from their social albums on 4×5 prints with sticky backs.
We had such a fun time at our #DisneyKids Preschool Playdate, and it made us want to go to Disneyland or Disney World even more! Last year was our first time going as a family and we had so much fun. We told Little A that if she gets potty trained we can go again, but to be honest we're planning on going either way!
Thanks to the Disney Parks team for letting us throw such a magical party! We had so much fun!