This shop has been compensated by Inmar Intelligence and its advertiser. All opinions are mine alone. #SatisfyWithMinis
Daily snack bins are the perfect way to end the constant battle over snack time! Put your kids' snacks in them in the morning, and they get to decide when to eat them! An easy, DIY solution that stops pestering and teaches self-control!
Click the below image to add Entenmann's® Minis to your Walmart Grocery cart.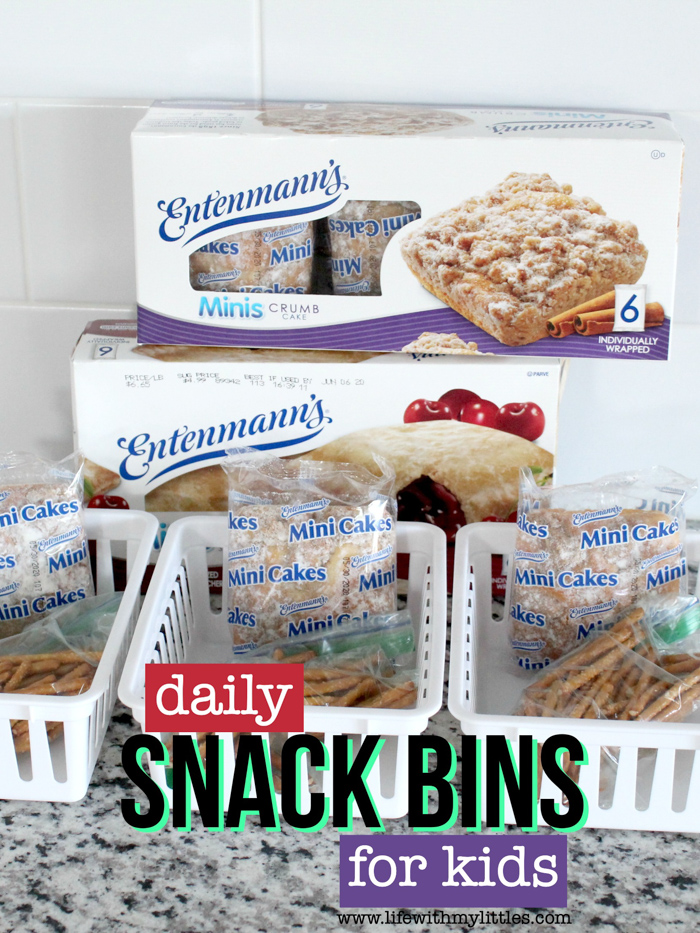 We've been spending a lot of time at home the last few months, and there's one thing that has been driving me crazy–my kids' constant requests for snacks.
You'd think that we could at least get through an hour after breakfast before they start asking for snacks (and they eat big breakfasts, let me assure you!), but without fail, I get asked for snacks before 10am every single day.
It got to the point where I decided something had to be done. I had seen someone on Instagram a few months ago share their daily snack bin system, and I knew that I could use the idea and make it work for my kids.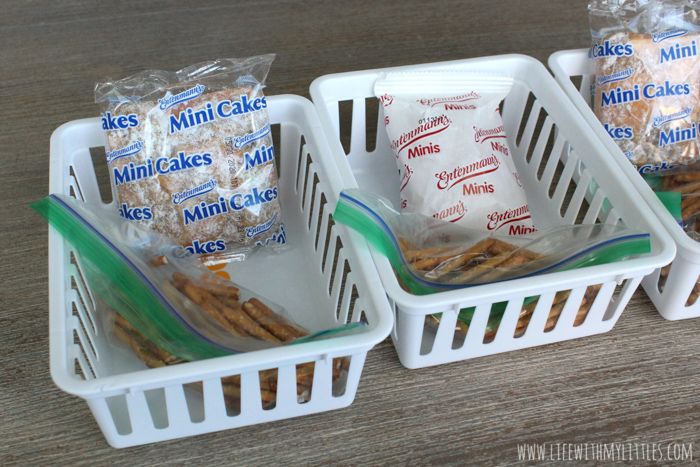 The idea is very simple: set out a bin in the morning with all your child's snacks for the day. You can either let them choose what snacks they get, or you can pick. In our house we do two snacks a day, so I put two snacks in each of my kids' bins. Instead of them constantly nagging me for snacks, they get to decide when to eat their snacks during the day. Once they're gone, they're gone, and they don't get any more. It's a great way to teach kids about self-control!
I hopped on the Walmart app and ordered a three-pack of mini storage trays from Walmart, along with a few yummy snacks to get them excited about our new system. Entenmann's® Minis are perfectly sized treats that allow you to indulge in moderation, and I knew my kids would be thrilled to find them in their snack bins! There are a variety of products and flavors to satisfy your cravings, so I had no problem choosing two that sounded good!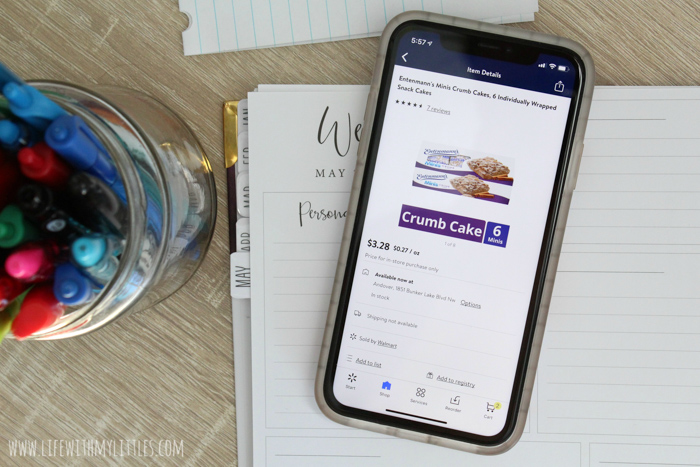 Growing up I always loved Entenmann's® treats, and Entenmann's® Minis deliver the quality and deliciousness of Entenmann's® iconic products in portioned individually wrapped snacking formats! They're just as yummy as I remember from when I was a kid! We especially love the Entenmann's® Minis Crumb Cakes and Cherry Snack Pies, but there are lots of different varieties of Entenmann's® Minis.
Plus, you can feel good about buying them because the company, Bimbo Bakeries, proudly partners with Feeding America through food donations and volunteerism, supporting our neighbors and communities where they live, work and serve.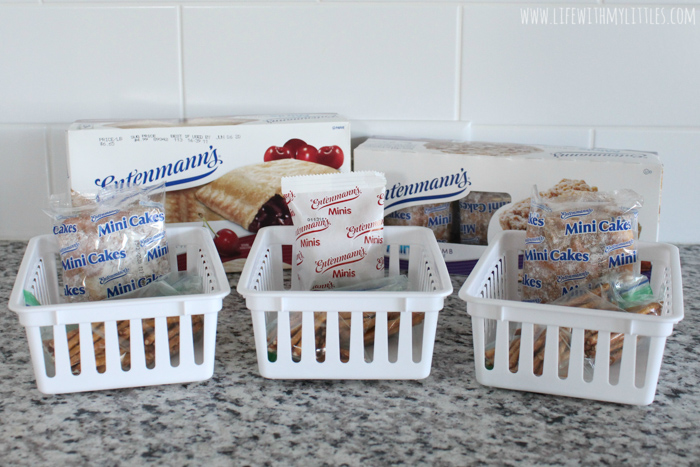 Our snack system has been working great. My kids quickly learned that if they eat all their snacks in the morning, they don't get any more in the afternoon. I will say that it's easier for my 7-year-old and 5-year-old to space out their snacks than it is for my 3-year-old, but he's learning!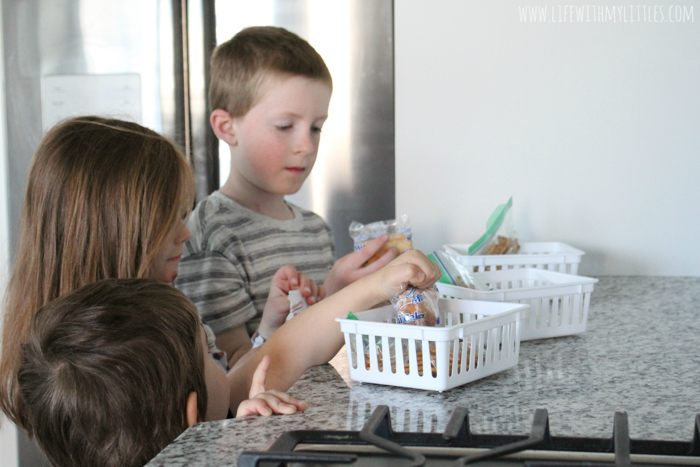 Making your own snack bins is super easy. All you need are some storage bins and a fun way to decorate them! You can even get your kids involved in the decorating if you'd like!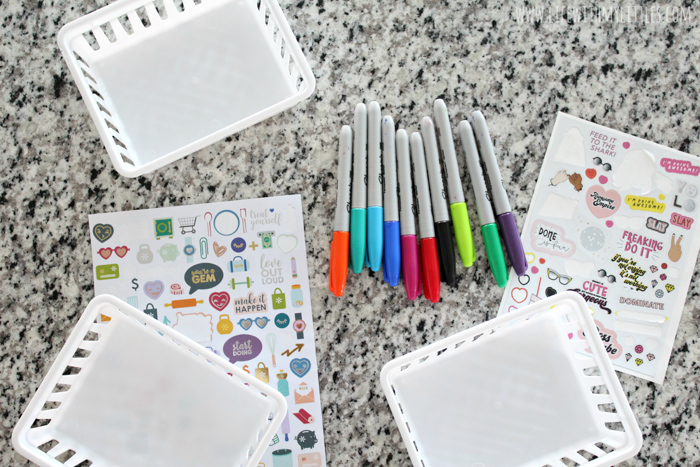 Some easy ideas for decorating your daily snack bins include:
Spray paint
Sharpies
Stickers
Vinyl
We obviously went the simple route and I just put the kids' names on their bins in vinyl, but you can go as big and creative as you want!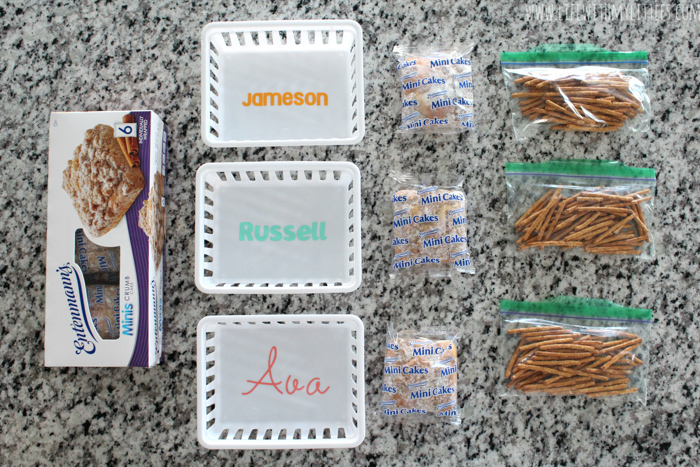 Our simple daily snack bin system has been working great. I wish I would've tried it sooner, and you can bet we'll be using it all through the summer! Daily snack bins are the perfect, easy way to end the constant battle about snacks, and it's a great way to teach kids about self-control!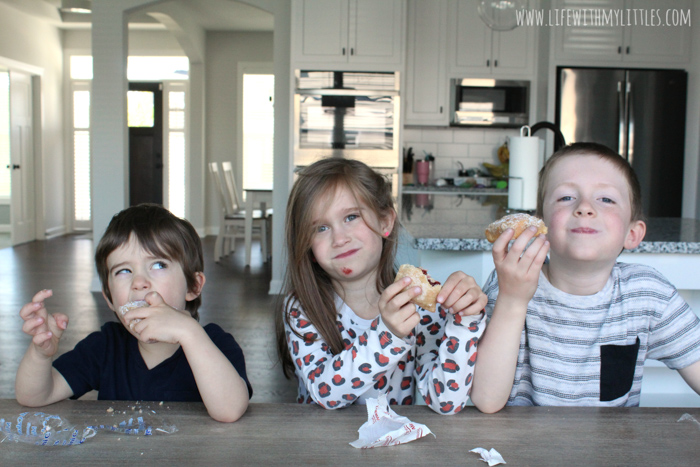 Have you ever tried making daily snack bins for your kids? Share your pictures with me on Instagram! And make sure you check out Entenmann's® Mini's high quality, moist, delicious treats, available nationwide!