Currently September 2018: What's going on this month for Life With My Littles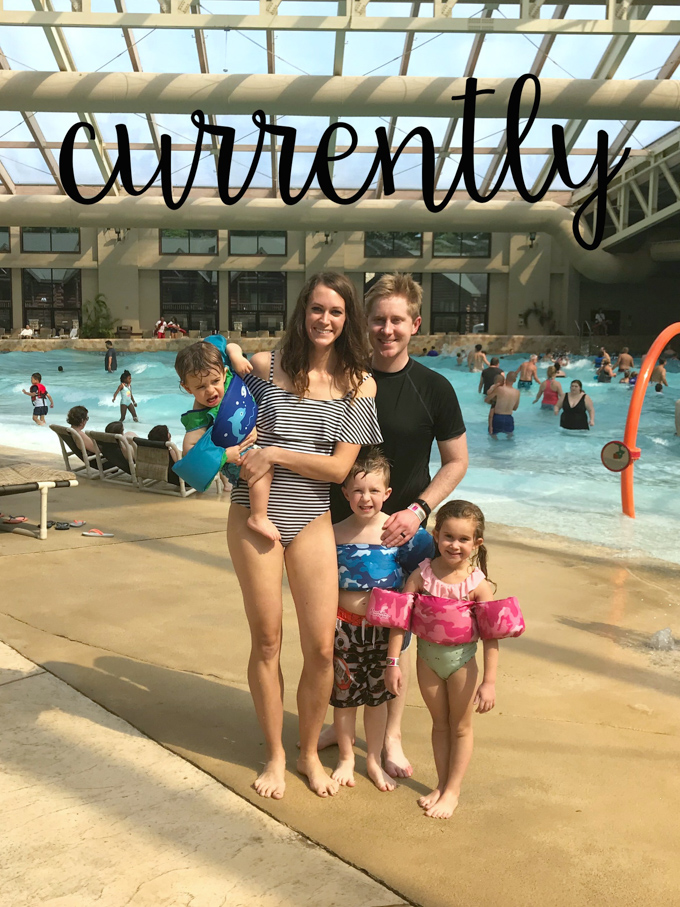 Happy September, friends! And Happy Labor Day!
August was a super fun, super busy, super fast month for us! I can't believe it's already over! My older two kids had swimming lessons for the first time, I got to visit my tiny, fresh, new nephew in Utah, we went to the Wilderness Resort at the Wisconsin Dells with my parents, and we went to the Minnesota State Fair! No, I did not win anything for my fabulous baked goods, but I had fun entering the competition and going to the fair itself was the best. We ate so much good food! Which, if we're being honest, is basically all I care about when it comes to the fair. We have also been harvesting more food from our garden, which has been so cool! And our watermelon and pumpkin plants are out of control! Hopefully we get a good harvest from them soon! Anyway, it was a great month and we made the most of our last month before school starts!
Here's what's currently going on for us:
Bracing for tomorrow. Not only is my daughter turning four tomorrow, but my oldest son also starts kindergarten. Talk about a whirlwind of emotions! My best friend and I are planning on going out for breakfast after dropping our boys off because that way we cry together! She's almost eight months pregnant and I'm always emotional, so it will be a hot mess. But if breakfast is involved, that will make it better, right? Anyway, Little A has requested that she have a Blue cake (as in Blue from Jurassic World) so I'll be working on that today. She's a very unique little girl. And Little J is so excited for school tomorrow. I'm split between whether or not I think he's going to be sad when he leaves. But he met his teacher and got to see his classroom last week so I think that helped a lot! Anyway, LOTS OF EMOTIONS.
Waiting on Barnes and Noble. I could hear back any day now if they are going to sell "Preggers" in stores. Like I've mentioned before, their website says it takes "about three months" to hear back, and we passed that mark about a week ago. So I'm not sure if that's a bad thing, or if it's a good thing. I keep telling myself it's a good thing because it might mean they're getting paperwork and everything set up, but who knows. I'll for sure let you guys know what happens on Instagram as soon as I hear!
Preparing for our new schedule. Little J's school starts at 9:25am, and since I'm planning on dropping him off every day, I'm trying to decide what to do with our days. I'm thinking going to the gym before MAY work, but it might have to be after. And then Little A will have preschool for 2 1/2 hours twice a week, plus she's doing dance on Monday nights. And Little J wants to do some kind of sport (either BMX or basketball or something else). But it will be interesting to see how it all works out and what kind of a routine we fall into! I LOVE routines and schedules, so I'm definitely ready to find what's going to work for us!
Creating our Halloween costumes! You guys, I am SO EXCITED about our costumes this year! Maybe even more than last year when we were all Moana characters! About two months ago, Little A decided that she wants to be Blue (the raptor from Jurassic World) for Halloween, and she has not changed her mind! So we're making it a family affair! My husband is going to be Owen, I'm going to be Claire, and all three kiddos are going to be raptors. I wish we had a dog or something so we could have all four raptors (no I don't, pets are gross). Seriously though, I'm stoked. As long as I can find the raptor costumes in stores (preorders are sold out EVERYWHERE!)!
Dreading winter. You guys, last winter was so long, and I really am not a fan of shoveling snow! I was excited for fall until I realized how close we now are to winter. I am going to try and convince my husband that we need a snowblower. Seriously though. It's a need, not a want.
Listening to my audio courses from Alison's Brand School (if you haven't listened to her Awesome with Alison podcast yet, you're missing out). I already listened to the influencer audio courses and I LOVED them. I seriously took so many notes and took away so much from them. I got the influencer and brand courses, since I need to start thinking about getting Preggers in front of more people, and I am excited to get started on the brand courses next. They are game-changers, friends. Game-changers.
Well, that's it for this month's currently post! Thanks, mamas!