Need a quick and easy dinner idea last-minute? Check out Applebee's To-Go to help you conquer midweek meals during the busy back-to-school season!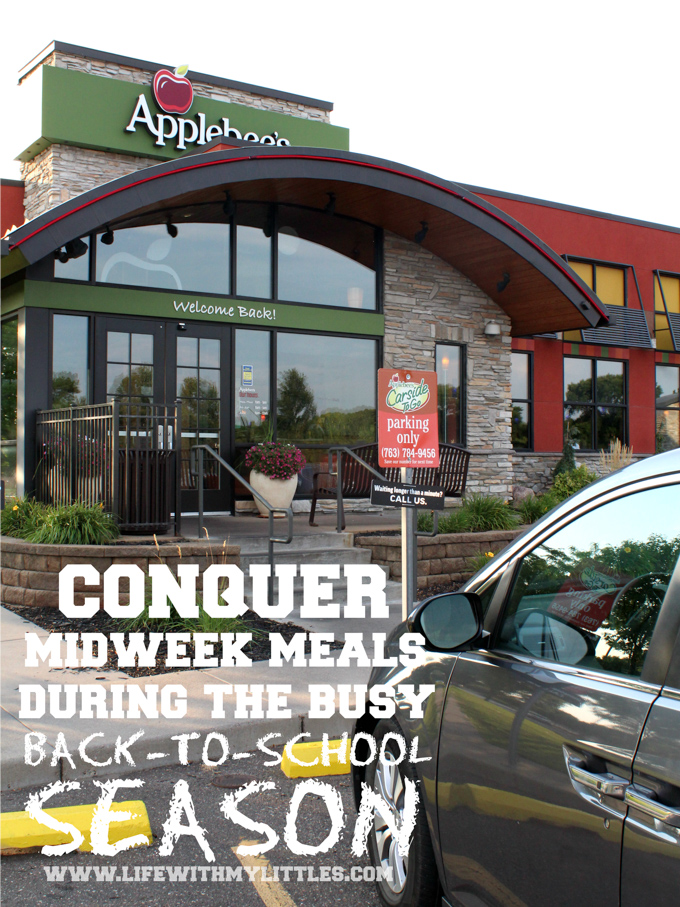 Things are about to get pretty crazy around here. In the next three weeks, my oldest son starts kindergarten and my daughter starts preschool, plus on Mondays we'll be at dance class and on Wednesdays we'll be at BMX racing. Since this is our first time really experiencing what the back-to-school season is like, I've been trying to prepare and plan out how we're going to manage everything without feeling exhausted at the end of each day!
It's going to be quite an adjustment from our very relaxed summer schedule, so I've been thinking about ways to make sure my family gets a yummy dinner each night. I know myself and sometimes I forget to thaw the chicken for dinner, or I as I start cooking I realize that I forgot to pick up a key ingredient at the store. With the busyness of the back-to-school season, I know my forgetfulness is probably going to get worse! Not to mention that I know there's not always going to be time to cook dinner at home during the week (especially on Mondays and Wednesdays!)!
So what's a mom to do? Well last week we tried out Applebee's Carside To Go, and it was fabulous! We got it on a day that I'd spent all day baking brownies and decorating cookies for the state fair, and there was no way I had time (or energy!) to make a quality meal for my family.
Thankfully, there's always time for Applebee's Carside To Go! It's such an easy and convenient way to conquer midweek meals during the busy back-to-school season. It saved me time and energy, and it gave me more time to spend with my family, which is a huge bonus for a busy mom. I know we're going to be using it on those school nights when I just can't get dinner together on my own!
Applebee's has a huge menu, and we had no problem picking what we each wanted. And bonus, there were no tears because even the kids' menu is packed with yummy options (with options for sides that include fruit and veggies!).
After I downloaded the free app (you can also order online or by calling your local restaurant), we scanned the menu and picked something delicious for everyone. The app was really easy to use and had pictures and descriptions of each item, which was super helpful! Plus, you can use the code "5off25" when you order online to get $5 off your first order of $25 or more! Score!
I chose the Carside To Go option since I can't leave my kids in the car to go in and pick it up, and there's no way I'm going in with three kids under six. After we were ready to place our order, I typed in my van make, model, and color so the Applebee's team could locate my vehicle when I arrived. I was even able to place our order a few hours ahead of time and pick what time I wanted to pick it up (which is SUPER helpful when you're busy!).
When we got to the restaurant, we parked in the designated spots outside and waited for our dinner to be brought right to our car. We were only there about a minute before someone came right to our car with all of our food and drinks! All I had to do was sign the credit card receipt!
As soon as we got home, we all gathered around the table and enjoyed our yummy dinner! Little J had chicken tenders and fries and Little A and Little R both had macaroni and cheese with yogurt and strawberries. They LOVED their kids' meals, and they came with apple juice!
My husband got the Southwestern Steak Salad, and let me tell you, that dressing was DELICIOUS! I got the Spinach and Artichoke Chicken Penne and a Caesar salad, and it was every bit as good (and then some) as Applebee's Spinach and Artichoke dip on their appetizer menu. I also treated myself and got the Dew Berry Burst Signature Soda, and guys, it was DELIGHTFUL, and the perfect treat at the end of a busy day! I highly recommend it.
Using Applebee's Carside To Go was a huge time-saver, not to mention the value and quality of the food was fabulous. It's a great option for busy families, and I really would recommend trying it out to help you conquer midweek meals during the busy back-to-school season
This is a sponsored conversation written by me on behalf of Applebee's. The opinions and text are all mine.