These Christmas gift ideas for moms are awesome! Whether you can't figure out what you want, or you can't decide what to get the mom in your life, these presents are perfect! The best gift guide!
I received free products for this post. This post contains affiliate links.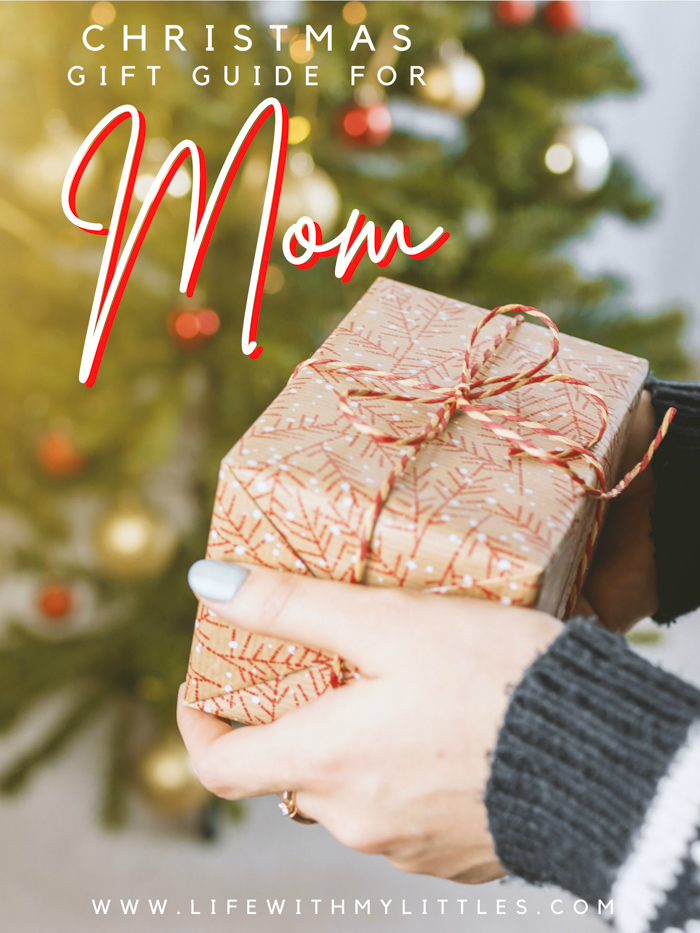 Hey there, mamas! Can you believe Christmas is just barely over one month away? That just blows my mind. Not only because that means I'll have a newborn in a little over two months, but also because didn't 2016 just start? How are we already talking about this? Ah!
This year for Christmas I wanted to do something special for you all. I know personally I get caught up with thinking about what to get my husband, my kids, my sister, my parents, my in-laws, and my friends for Christmas, and then totally draw a blank when people ask me what I want for Christmas! I'm sure it's not just me, because I think moms are just good at thinking about everyone but themselves a lot of the time.
Anyway, I've done a lot of searching and have found some perfect Christmas gift ideas for moms, and I've put it all together in this great holiday gift guide! So if you're one of those ladies who has no idea what she wants for Christmas yet (or if you're looking for your wife or sister), let me help you out!
Gift Ideas for Moms
I actually got my sister one of these for her birthday and we both thought it was the cutest thing! You can get them in all kinds of fonts and they look so elegant and fancy on an envelope.
I bought one from this shop on Etsy, but lots of places sell them. If you're going to be at your address for a long time, think about putting one on your Christmas list! They make your envelopes look so classy!
Leather backpack diaper bag
Once you get a backpack diaper bag, you will never go back to a regular one. I got one in April and would LOVE a new one. And I've seen so many adorable leather backpack diaper bags that are so classy and sophisticated and I want them all!
My favorites are from Fawn Design and they have several different colors to choose from, as well as seasonal colors. I love the leather look with the metal, and bonus, they are super easy to wipe down!
Journal
If you've been following me for a while, you'll know I love journals. It's a great way to reflect, take care of yourself, and really relax after a crazy day or week.
My favorite journals are my coptic stich notebooks from Scribble & Jot (I actually have 4 of them!) and my 52 Lists for Happiness
journal by Moorea Seal.
Whether you are already into journaling, a casual journaler, or someone who has never written in a journal, a journal is always something you can add to your Christmas wish list!
A cozy sweatshirt
What mom doesn't love pulling on a soft, cozy sweatshirt after a long day? This "Full Hands Full Heart" slouchy pullover from Revol Roots is a must for busy moms. Not only is it super cute (and accurate!), but the gray will go with anything, and it's even slightly oversized for extra coziness. Seriously, any mom in your life will love this one.
A simple bracelet
I'm pretty minimalist when it comes to jewelry, but I love simple bracelets like the ones from Goldy Fox. They have tons of different colors, some with just seed beads, some with bars, some with multiple strands, and seriously something for everyone. Plus they come in tons of sizes so you can get mommy and me bracelets!
I also love the shop Little Pretties. My daughter has a few of their bracelets, and they are very high-quality and come in mama sizes, too.
A cute mug
Even though I'm not a coffee drinker, I do love having a cute mug to drink from. One of my favorite things to drink is warm milk with pumpkin spice coffee creamer in it! Mmm!
Anyway, cute mugs are a fun gift to give any mama, and you can even put some tea bags, packets of hot chocolate, or a Starbucks gift card inside to make it even more special! I love Target mugs, but I've also seen cute ones on Amazon, too (like this cute #momlife mug
).
Hand-stamped initial necklace
I used to have one of these, but the chain kept breaking and I didn't want to keep paying to get it fixed so I haven't worn it in a few years. But I recently discovered Made by Mary thanks to FIVE of my friends recommending them. They hand-stamp all of their jewelry (necklaces and bracelets) and you can get bars or discs, numbers or letters. I really REALLY want one of these after baby #3 is born, and they even offer a necklace with three hand-stamped discs! Perfect!
If you want to impress the mama in your life and give her something she will wear every day, this is that gift.
A new stroller
Now this might sound like something that's more for the child, but I promise you, it's not. After two years of pushing around the worst double stroller ever, I can tell you that a new stroller would be the best Christmas present ever.
I've heard amazing things about the Baby Jogger City Select Stroller
from several of my mom friends, and you can even get it with a second seat
to make it into a double stroller! Yes, it's pricey, but from what I've heard, it's so worth it. Plus, Black Friday is only two days away and you can bet I'm going to be looking for some sweet deals on it.
Graphic tees
If you're into graphic tees, I have some great small shops for you to check out.
Loved By Hannah and Eli has some super cute mama tees, and I finally got one this week and LOVE it! They have lots of different styles to choose from, and you can even get ones for your kiddos, too!
Another small shop I love is Little Mama Shirt Shop. It's a mama-owned and mama-run business in my husband's home town, and they are always coming out with new designs and new products.
Sheets
If you're anything like me, you probably love sleep. I think any mama loves sleep when she can actually get a good night's rest. And one way to encourage that is new sheets. New sheets are a super cozy gift for any mom. I actually might buy myself some and say they're from Santa! Moms are allowed to do that, right?
So there you have it, the perfect list of Christmas gift ideas for moms! Hopefully you loved these ideas and now know what to tell people when they ask you what you want for Christmas!