How to Pick the Best Nursing Bra For You: Easy tips to help pick the best nursing bra for breastfeeding, both in the beginning and throughout!
I received free product in exchange for this post.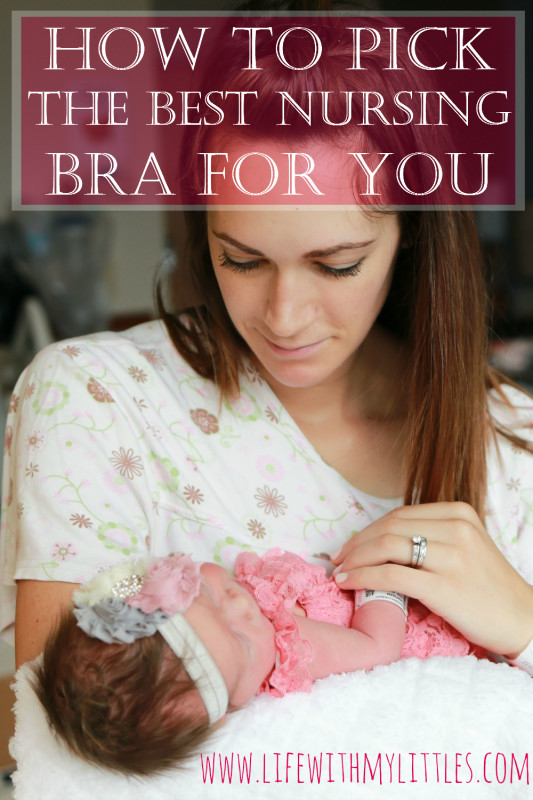 One of the most important tips I can give you for successful breastfeeding is that you need to be comfortable both when you are breastfeeding and when you aren't. The best way to do this is to have a supportive bra. You need a comfortable bra that is supportive, but not restrictive. A bra that is too tight can lead to engorgement, plugged milk ducts, or a breast infection. You also want one that will be easy to use while you are actually breastfeeding. Last week I shared tips for successful breastfeeding, and this week I am going to share how you can pick the best nursing bra for you!
I was lucky enough to be contacted by Bravado Designs to see if I would review a few of their bras and a nursing tank. I of course said yes, because Bravado Designs has been around for over 20 years and they know what they are doing. The first bra they ever sold is still one of their most popular products, and they have several different styles and colors, and even nursing tanks, so that you can get exactly what you are looking for.
When I breastfed Little J, I found that my preference was to have a more supportive underwire bra for day wear and a stretchy cotton bra to wear during the night. I was sent the Allure Underwire Nursing Bra in Black, the Body Silk Seamless Nursing Bra Jacquard Pattern in Jungle Purple, and the Essential Nursing Tank in Mykonos Blue. I didn't use a nursing tank much with Little J, but I was excited to try them out again.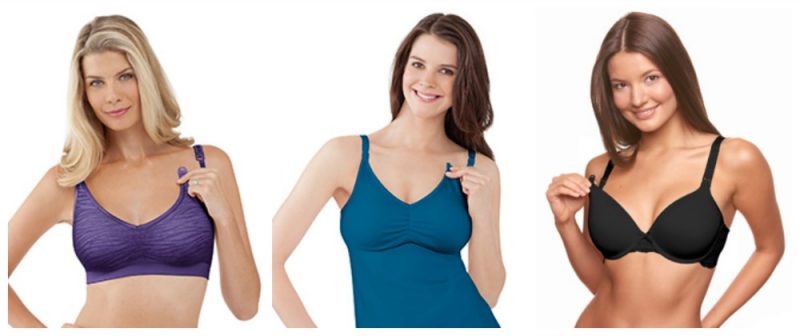 Wearing a Nursing Bra During Pregnancy
As any pregnant mom knows, your breasts change during pregnancy, and there comes a point when your regular bras just won't fit anymore! It was really nice to be able to wear a nursing bra the last month of pregnancy because I didn't have to worry about going out and buying a bigger bra for that short time period. And don't stress about getting the sizing right with your nursing bra before your milk comes in, because the Bravado website actually has a simple guide to figuring out what size you will need throughout pregnancy and nursing. This is super helpful because I wanted to be able to have a nursing bra ready to go before my babies were born.
With Little A, I liked wearing the Bravado Body Silk Seamless Nursing Bra because towards the end of pregnancy she decided to get up in my ribs, which made my regular bra too tight anyway. The Body Silk Seamless Nursing Bra gave me some much-needed relief and kept me very comfortable in those last few weeks.
When You First Start Breastfeeding
When you first start breastfeeding, you are tender, you want something comfortable, and you need something that is going to fit to your body. I recommend getting a cotton bra that is stretchy and soft, and that doesn't have much padding or underwire. Padding is not something your chest is going to need at that point, and underwire can actually cause problems with clogged milk ducts, especially when you are beginning to breastfeed.
You want a bra that will clip down easily so you don't have to struggle with it (especially at night when you are super tired!), one that nursing pads can easily fit into (especially in the beginning when you will leak a lot), and one that is comfortable (because you don't need any more discomfort going on).
The Bravado Body Silk Seamless Nursing Bra is perfect for beginning to breastfeed. It is super soft, stretchy, and gives you support without feeling bulky or thick. I was able to wear it during the day and night, and it is really easy to nurse Little A in. When your milk is first coming in, you don't want any discomfort, and I loved that this bra felt like it was made with only comfort in mind. This bra also fits perfectly. The Body Silk Seamless Nursing Bra is the easiest bra to find your size in, and I definitely feel comfortable in mine. I also love that it doesn't cause discomfort while sleeping because wearing a bra to bed can be super uncomfortable, but I haven't had problems with this one! It has removable pads that I love and it is super easy to button and unbutton, even in the dark when I am breastfeeding at night.
I also really liked using the Bravado Essential Nursing Tank when I was beginning to breastfeed. It is super soft and stretchy, and it has a built-in bra so you don't have to double-up. Babies eat a lot at night in the beginning, and it can be cold to have to lift your entire shirt up to feed them! I also really appreciated that I could wear it in the hospital and not feel so exposed when I was nursing and the nurses or doctors would come in. I also liked the nursing tank because I didn't feel as exposed when I was nursing with my toddler in the room. I know he doesn't really know what's happening, but it made me feel better!
Once Breastfeeding Has Been Established
After 3-4 months of breastfeeding, you can change things up a bit and add in an underwire nursing bra. It is not recommended that you wear underwire until then, because it can cause clogged milk ducts if it is not worn correctly. But after your breasts have gotten used to making the right amount of milk and you feel comfortable with nursing and baby is growing and healthy, you may want to try wearing something with more support.
I really like the Bravado Allure Underwire Nursing Bra for after you have been breastfeeding for a few months. It is not recommended that you use underwire nursing bras until 3-4 months into breastfeeding, so don't use this one until then! Little A isn't that old yet, so I haven't been able to get much use out of this one, but I know I am going to love it. It is super soft, doesn't have any padding or push-up (because duh, you don't need any more), the cups fold down really easily so you can nurse easily, and it has full coverage and is really light. I also love the little lace details on the sides and in the front because it adds a very simple feminine touch and looks lovely. I know this bra it is going to be supportive because of the way it is designed. Something else that is nice about the Allure Underwire Nursing Bra is that the underwire is only under the bust, and not on the sides so it won't pinch or constrict your breast tissue. Aka, you won't have problems with clogged milk ducts because of the bra.
You can also continue to wear a nice cotton nursing bra or nursing tank at night (or during the day if you want) after breastfeeding has been established. One of the pluses about continuing to wear the nursing tank is that when you have to go out in public and you have to breastfeed, you don't run the chance of flashing your stomach to the world if your nursing cover blows around. This was something I hated when I was nursing Little J, and now that I have discovered how great the Bravado Essential Nursing Tank is, I don't have to worry about that at all!
Whether you are pregnant, just beginning to breastfeed, or have been breastfeeding for a while, Bravado Designs has the right nursing bra (or tank!) for you. I highly recommend checking out their wide selection of bras. They come in lots of different styles and colors, and they really do help make breastfeeding a better experience because of how comfortable they are.