I received free product in exchange for this post. This post contains affiliate links.
Ever wonder if invisible aligners are right for you? Here's an honest SmileDirectClub review, pros, cons, tips, and why SmileDirectClub is the easiest way for moms to straighten their smile from home.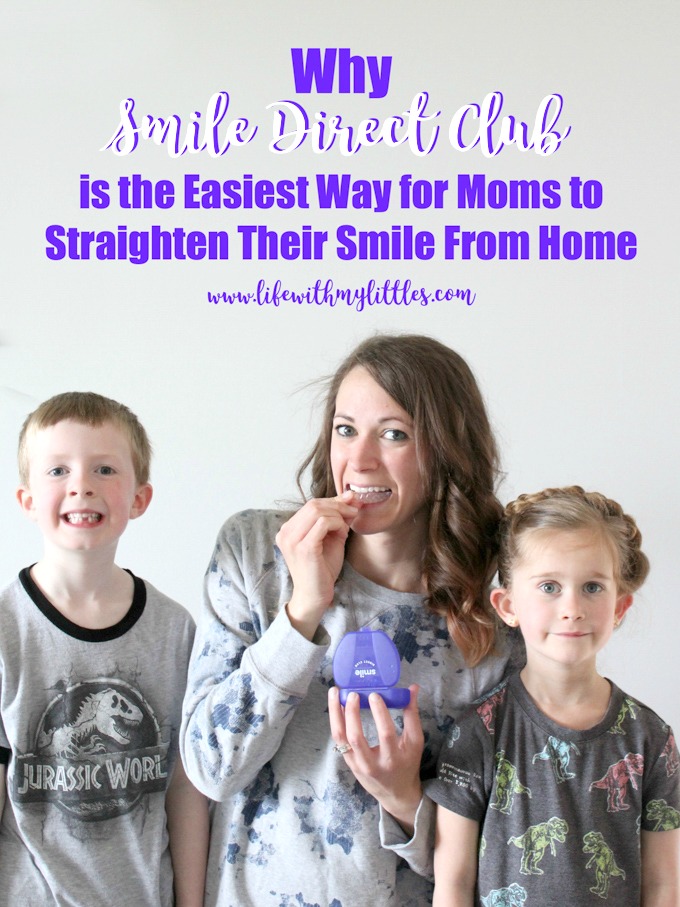 Like many people, I had braces when I was a kid. I was lucky and only had to have them for about 18 months, and when I got them off I was given retainers to wear to keep my smile straight. But, like many people, my teenage self neglected to wear them and eventually, my teeth started overlapping a little bit. It made me a little self-conscious, and as an adult, I've always wanted to get it fixed. Unfortunately braces can be expensive and require a lot of orthodontic visits to adjust and monitor them, so I've never done anything about it.
That is until recently! Last month I finished up my five-month treatment plan with SmileDirectClub. SmileDirectClub is the easiest way for moms to straighten their smile from home (and cheapest, and best!). If you haven't heard of it, it's a company that sends you invisible aligners to straighten your smile at home. Sounds easy, right? It is! I didn't have to leave my house or schedule any appointments, and in just five months, my teeth are straight again!
If you're thinking about trying out SmileDirectClub, I highly recommend it. Today, I want to share an honest SmileDirectClub review and talk all about my experience (because I know a lot of people are curious to know what it's really like), some pros and cons of using SmileDirectClub, and a few tips to make the process more comfortable (and make sure you read to the bottom because I have a coupon code for you!).
My SmileDirectClub Review
First of all, I am VERY happy with SmileDirectClub and the results I got. The company was great to work with, it was so easy and fast (it only took five months!), and it was a really discreet way to straighten my teeth. Here's a before and after of my teeth:
The main thing I wanted to get fixed was my bottom teeth, but after doing the impression kit (which I'll talk about in a minute), I also realized that I my top teeth needed to be pulled back in a little bit. So that's what happened!
The At-Home Impression Kit
The best part of using SmileDirectClub was that I didn't have to schedule any visits to an orthodontist. Being a mom is dang busy (as I'm sure anyone reading this can attest to), so scheduling monthly appointments to get braces adjusted was not something I wanted to do.
At the start of your "Smile Journey," you can choose either the at-home impression kit or visit one of SmileDirectClub's SmileShops where they do your impressions for you. I chose the at-home impression kit (it was $49) and it was super easy. I also want to mention that I got emails all along the way about the status of my impression kit (from when it shipped, to when it was delivered, to when they received it after I made my impressions). It was nice to be notified of everything along the way. I also got a really helpful email before my impression kit arrived that talked about how to take a good impression, and it instructed me not to rip the box open, because that's how you send the kit back!
The impressions were really easy to do, and actually pretty cool! It took me about 30 minutes to read the instructions (which were clear and easy to follow) and make my impressions. I probably could've done it faster, but I was taking pictures along the way for this post! It's a small amount of time to get started and definitely something you can work into your busy mama schedule. Plus you have about a week to do it and send it back, so you don't feel rushed. Although I was excited and did it pretty soon after it arrived!
To send the impressions back, I just put everything back in the box, put it in my mailbox (I didn't even have to go to the post office!), uploaded a few before pictures, and filled out some questions about what I wanted to fix about my smile.
I got an email a few days later saying SmileDirectClub had received my impressions and that it'd be about two weeks for them to put everything together. Four days later I got another email saying that my plan was done and they were working on my aligners! There was a 3D model of my mouth on their website and I could watch a time-lapse of my teeth moving back into place (it was so cool!). I was told I would be on a five-month plan (the average is six) and that I should get my aligners in 4-5 weeks.
Wearing My Aligners
I got an email the next day saying my aligners were on their way! A week later I got my kit. It was very nicely organized and easy to understand, and it had all my aligners for my entire treatment plan inside. I put my first set of aligners in and they fit great. I checked in online to let them know I was starting my treatment plan and I was good to go!
My mouth hurt a little bit the first few days. My main issue was my tongue! Of course putting something new into your mouth is going to feel different, but the edges of my aligners started cutting my tongue a little bit and making it hard to eat and even talk. On the second day of wearing my aligners I went and got some dental wax and it helped A TON. I only had to wear the dental wax for a few days before my tongue adjusted and then I was fine until the next set.
For my treatment plan, I wore one set of aligners the first week of the month, then another set the second week, and then a third set for the third and fourth weeks of the month. Then it would repeat with new sets for four more months. I don't know if that's how everyone's treatment plan goes, but that was how mine worked.
At the end of the first week, I got a reminder email telling me it was time to switch my aligners. I got these emails each time it was time to switch, which I really appreciated because sometimes my brain can't keep all the little details in!
When I put in my week 3/4 aligners, the bottom one wasn't laying completely flat on my molars. I emailed the dental team that night and didn't hear back for six days. Luckily, I was able to use lots of wax to make it comfortable and it eventually went down into place, but I was pretty disappointed because if it had been a one-week set of aligners, it would've been time to switch my aligners by that point! This was the only time I ever had to reach out to the dental team, so I don't know if that's a normal response time. Honestly, this was the only negative thing I had happen my whole time of using the aligners.
Over the next four months, I continued to switch out my aligners every week (or every other week). Some sets needed wax to feel comfortable in my mouth and some didn't. No two sets are the same so it made sense that happened. It was annoying at first to have to take them out and wash them EVERY time I wanted a snack or to have a soda, but by the end I was used to it.
Completing My Treatment Plan
A few weeks before the end of my treatment plan, they sent me my first set of retainers to wear at night. When you complete your treatment plan, you wear your retainers for two weeks like a regular set of aligners, and then just wear them at night. The retainers are an extra $99, and you are supposed to get new ones every six months.
Five months after starting, I am very happy with my results. It's kind of amazing that in such a short amount of time my teeth look so different! I'm no longer worried about overlapping bottom teeth!
I didn't get any kind of final email or "congratulations, you're done!" email, which I was surprised by since I they had been so great emailing me reminders throughout my treatment plan. It says on the website that at the end you'll check in with your doctor and they'll sign off on completing your treatment, but again, I didn't ever get an email or notification about this, and didn't see anything in my dashboard online about it, so I don't know if that's a glitch or what. Fortunately, my smile looks great and I don't have any questions or problems with the results!
Pros of SmileDirectClub
The Smile Guarantee: If their aligners aren't the right fit for you, they'll refund your impression kit or SmileShop scan. If you're unhappy with your aligners within the first 30 days, you can return them for a refund.
They're affordable! SmileDirectClub is 60% cheaper than regular braces. That's HUGE! You can either pay a one-time up-front price of $1895, or you can pay $250 down and $85 monthly for 24 months. The total cost here with this option is $2290, so it's a little more than paying all at once, but it's still more affordable than traditional braces!
You don't ever have to leave the house. This is big. I know I've already mentioned this, but I hate scheduling appointments for myself because I have to plan them around my kids' schedules and find someone to babysit. Being able to do the at-home impression kit and not ever scheduling monthly orthodontist appointments was the BOMB.
They are discreet. I bet only a few people even knew I was straightening my smile over the last few months! Of course I told a few people and talked about it on Instagram, but nobody can tell you're wearing them when you have them in! Which is great for pictures!
So, so easy. I don't think straightening my teeth could've been any easier. I just had to wear my aligners for 22 hours a day and bam! Teeth straightened! SmileDirectClub was so easy and took such little time out of my schedule.
Cons of SmileDirectClub
Unlike braces, you have to take your aligners out to eat. I mean it makes sense and it's fine, but it's annoying when you love to eat or drink anything other than water. If I ever wanted to snack or have a soda, I had to take them out and go through the process of brushing them, and then brush my teeth before I put them back in. This was unfortunate when I went places and was offered food (like Costco samples or a cupcake at a kid's party or something).
You don't have direct access to a dentist or orthodontist if a set doesn't fit or something. In most cases, this is fine, and you may not even have a problem with this, but if you do, it's frustrating. Because you have to communicate through email, you can't get an immediate answer. It took six days for me to get a response about one set of my aligners, whereas if I'd gotten my teeth straightened in person, I'd just be able to call up my orthodontist and talk to him about it.
Because each set of aligners is made individually, they can hurt in different places and can be uncomfortable while you adjust. Some of my aligners had sharp edges on the right molar, some had sharp edges on the left molar, and some went up extra high on my gumline and hurt there. It wasn't anything wax couldn't help with, but it was hard to know if a set was going to hurt when I first put them in and where.
Tips for Using SmileDirectClub Aligners
Have dental wax on hand, might have to put a little on at first, won't have to use it with every set or even the whole time you have a set in, but get some before your start your treatment. I got mine from CVS.
Don't wear lipstick with your aligners in! I have some super-stay lipstick that I love and doesn't come off at all, but with aligners in, it rubs off. I'm guessing that happens with all kinds of lipstick! Just don't do it or you'll get lipstick inside of your aligners.
Brush your aligners and your teeth EVERY TIME you eat or drink. I skipped brushing my teeth and aligners a few times in the beginning and my aligners paid dearly. They smelled SO BAD. And when you're going to be wearing them for 1-2 weeks, you want to make sure they're always fresh! So seriously, follow the directions and brush, brush, brush!
Wash your case in the dishwasher. You'll want to freshen up your case once or twice a month, too, and the dishwasher is a great way to do it!
Since you can't use toothpaste to freshen your aligners, try dental cleaner! One tablet in warm water while you eat and your aligners will be fresh and clean!
I am very happy with my results from SmileDirectClub (have I mentioned that yet?). SmileDirectClub is the easiest way for moms to straighten their smile from home. It's cheap, it's fast, and it didn't get in the way of my busy mama life! Now I have a beautiful, straight smile and confidence for days!
If you're interested in trying out SmileDirectClub, I've got a sweet deal for you! Click here and use code JUNEDEALS to get either 50% off impression kits + $100 off aligners or book a free scan at a SmileShop near you and you'll receive a $25 Amazon digital gift card at your appointment + $100 off aligners.